Winter Activities in Kimberley
Updated February 18, 2022
Kimberley Alpine Resort Update:
Snowcat ski shuttles are in use at the resort. Take an exciting ride up the hill or get a bit of extra exercise and use the operational chairs for the rest of the day! Check out the Snow Report!
Each ride has four spots for walk-in rides but guests will need to book their spot in the shuttle as soon as possible to ensure a spot. Limited seating available. Click here to book your shuttle.
For the most recent news on developments at Kimberley Alpine Resort please visit the Northstar Express News page.
Kimberley Alpine Resort is only part of the Kimberley Experience!
Kimberley has many trails in and around the city where you can enjoy a number of winter activities; snow-shoeing, cross-country skiing, snowskating, snowshoeing/hiking, fat-biking, skating and tobogganing.
Kimberley Nordic Club - Cross Country Skiing and Snow Skating on North Star Mountain. You can rent gear or bring your own and ski the day away! Want to ski on your own? Try the Northstar Rails 2 Trails!
The Lois Creek and Kimberley Nature Park Trail Systems are popular hiking/snowshoeing destinations. You can also hike until you find a toboggan hill.
There are many places to Fat Bike, but visit the Trickle Creek Golf Resort for a gorgeous ride.
Love skating? Check out one of these outdoor skating rinks!
Don't forget to take a stroll through the Platzl, Kimberley's downtown pedestrian core and check out the many unique boutiques after you visit the Kimberley Heritage Museum! Click here or visit the Visitor Center for the "Platzl Self-Guided tour".
Visit the Kimberley Visitor Center for maps and more information.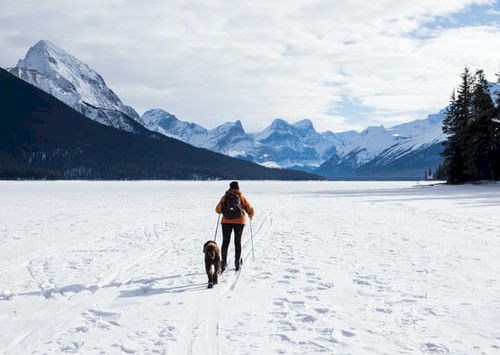 A Winter Itinerary
A Chill-Seeker's 3 Day Guide To Snowy Saunters And Warm Welcomes In Kimberley