Waterfall Wonder: Our 6 Favourite Falls near Kimberley, BC
Known for abundant natural beauty and proximity to outdoor play, Kimberley is the perfect place to splash into adventure. While there's no shortage of outdoorsy things to do here, no visit to Kimberley would be complete without checking a few of our favourite waterfalls off your to-do list. From the city-limit splendour of Marysville Falls, to the hidden and hikable Mary Anne Falls, casual explorers and seasoned adventurers alike will find their new favourite spot to refresh and relax here.
Marysville Falls
Just a short drive away from our downtown core, you'll find beloved Marysville Falls. This waterfall is wheelchair and stroller accessible, is doable for all age and fitness levels, and can be viewed year-round. Enjoy the 10-minute stroll down a wooden walkway and along Mark Creek, before reaching the penultimate viewpoint overlooking a 30-metre waterfall. Opposite the trailhead is a community Eco Park dedicated to the west-slope cutthroat trout: a native species that returned to Mark Creek following extensive watershed restoration.
Get here: From the downtown Platzl, drive or bike about 7km south through the traffic lights until you reach Marysville Falls. Parking is available along the street, or directly across the road at the Marysville Falls Eco Park.
Meachen Creek Falls
Multi-tiered Meachen Creek Falls makes for a quick and easy wander after a day on the lake, or while en-route to other backcountry hikes in the Purcell Mountains. Keep your eyes peeled after parking: the pathway to the falls is not officially signed, but is well-used and lies just before the parking area. Stroll through densely wooded forests before veering right and taking in the many great lookout points along the way. Dramatic canyon views and the sounds of crashing water 85-feet below make this one of the most memorable waterfalls to visit in the area.
Get here: From downtown Kimberley, head south through the traffic lights before turning left onto St Mary Lake Road. Continue down the main St. Mary Lake Road before turning left onto St Mary River FSR. Take the second right onto Hellroaring Creek Road, then your first right onto Meachen Creek Road. Continue 8km and park at a wide pullout on the right-hand side at the 34km sign.
Mary Anne Falls
This 2.3km out-and-back trail is perfect for adventurous travellers looking to add some elevation and a more strenuous workout into their waterfall explorations. Short but steep, the efforts of the hike are rewarded in full once arriving at the lookout, or when splashing in the runoff below. Bring your binoculars for bird-watching along the way, and don't forget to pack a picnic lunch to eat while soaking up the views of St. Mary Lake far below. Please note: the Mary Anne Falls trail resides on private land, and is accessible upon agreement with the landowner. Please practice Leave No Trace principles while here to ensure that future visitors and locals can continue to enjoy this beautiful spot.
Get here: From downtown Kimberley, head south through the traffic lights before turning left onto St Mary Lake Road. Continue down the main St. Mary Lake Road for 17.5km before finding a wide pull-off on the left. The hidden trail can be found across from the parking area, and is marked with flagging tape.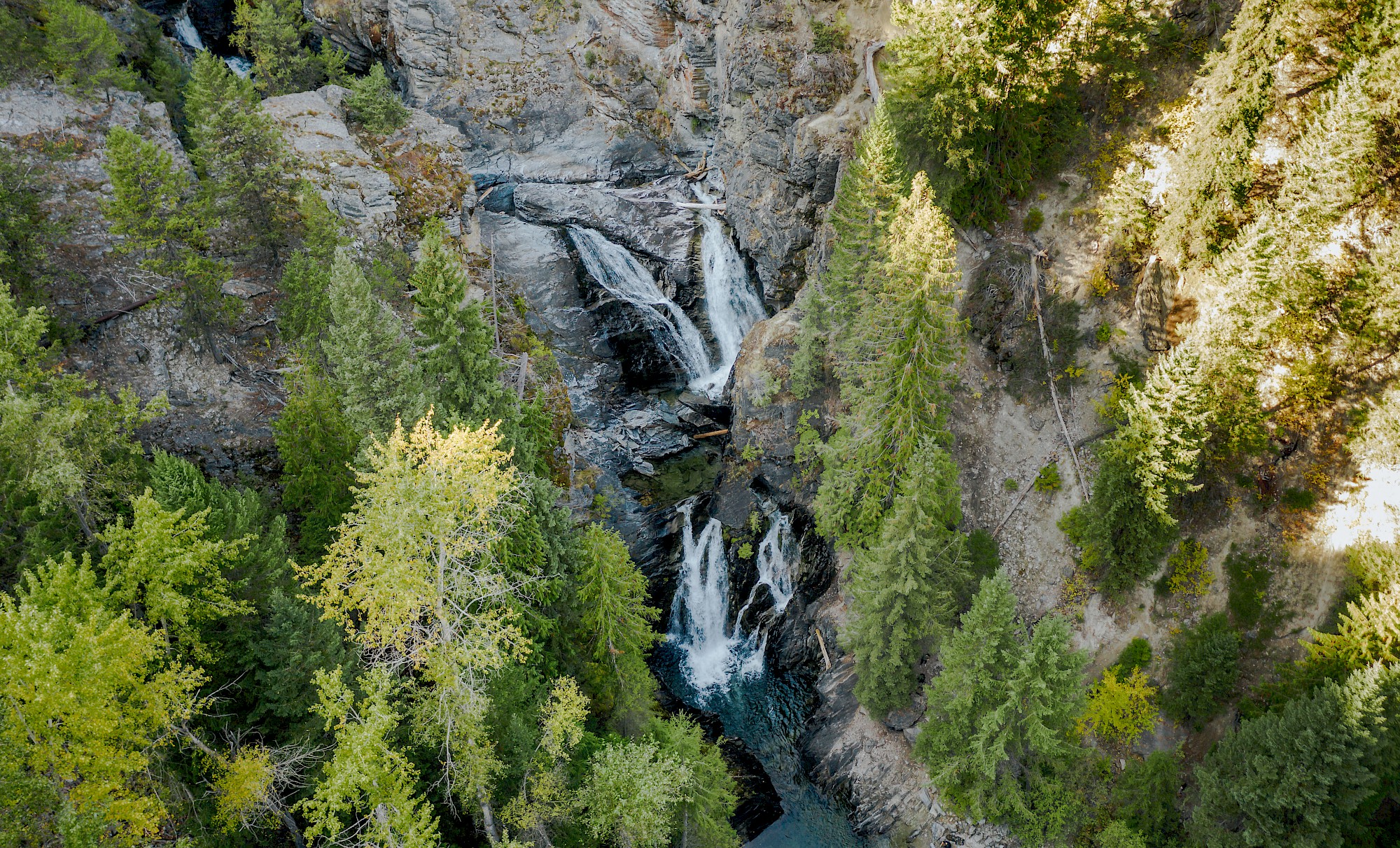 Cherry Creek Falls
Those looking to head north out of town will be met with a smattering of creeks, lakes and rivers to plunge into along the way. One of our favourite waterfalls in this direction is Cherry Creek Falls. This mellow waterfall is the perfect place to beat the heat on a hot day. With plenty of shade from the surrounding coniferous trees, and a natural rock "waterslide" to carry you into the refreshing waters, this is a fun spot to cool down with family or friends.
Get here: Cherry Creek Falls can be found following an 11km drive north out of town. After heading down Highway 95-A for about 7km, turn left onto Thomason road and follow signage for Cherry Creek Falls. Then, take a right onto Clarricoates Road, and continue straight onto Ta Ta/Lost Dog Forest Service Road to find the falls.
Perry Creek Falls
South of Kimberley, this 2.4km out-and-back trail is a popular spot to wander through cedar forests and enjoy a refreshing dip below the falls. We especially love visiting Perry Creek Falls during the magnificent spring freshet, when local wildflowers dot the landscape and pop against the bright moss and whitewater spray of the falls. This is a short and sweet hike that the entire family will enjoy.
Get here: From downtown Kimberley, head south through the traffic lights along Highway 95A for 14km before turning right on Wycliffe Park Road. Continue for another 2km before turning right on Old Wycliffe Road and continuing 1km before another right turn onto Perry Creek Road. Follow this well-maintained gravel road for about 10km before parking at a yellow gate at the start of the trail.
Lumberton Falls
Also known as Moyie Falls, this furthest-out option boasts one of the best swimming holes in the area, and is easily reached by all fitness levels. Enjoy a 2km out-and-back hike down a meandering gravel road before wading across a shallow creek and reaching the impressive waterfall. Keep an eye out for the series of hidden mining tunnels flanking the falls, then take a cold plunge into the deep, chilly waters if you dare.
Get here: From Kimberley head south to Cranbrook. From Cranbrook, continue South on highway 3 & 95 towards Creston for 13km. Turn right on Lumberton Road and continue on this well-maintained gravel road for just over 7km. Turn left into a small parking lot and continue further down to reach the trailhead. The trail begins beyond a yellow gate.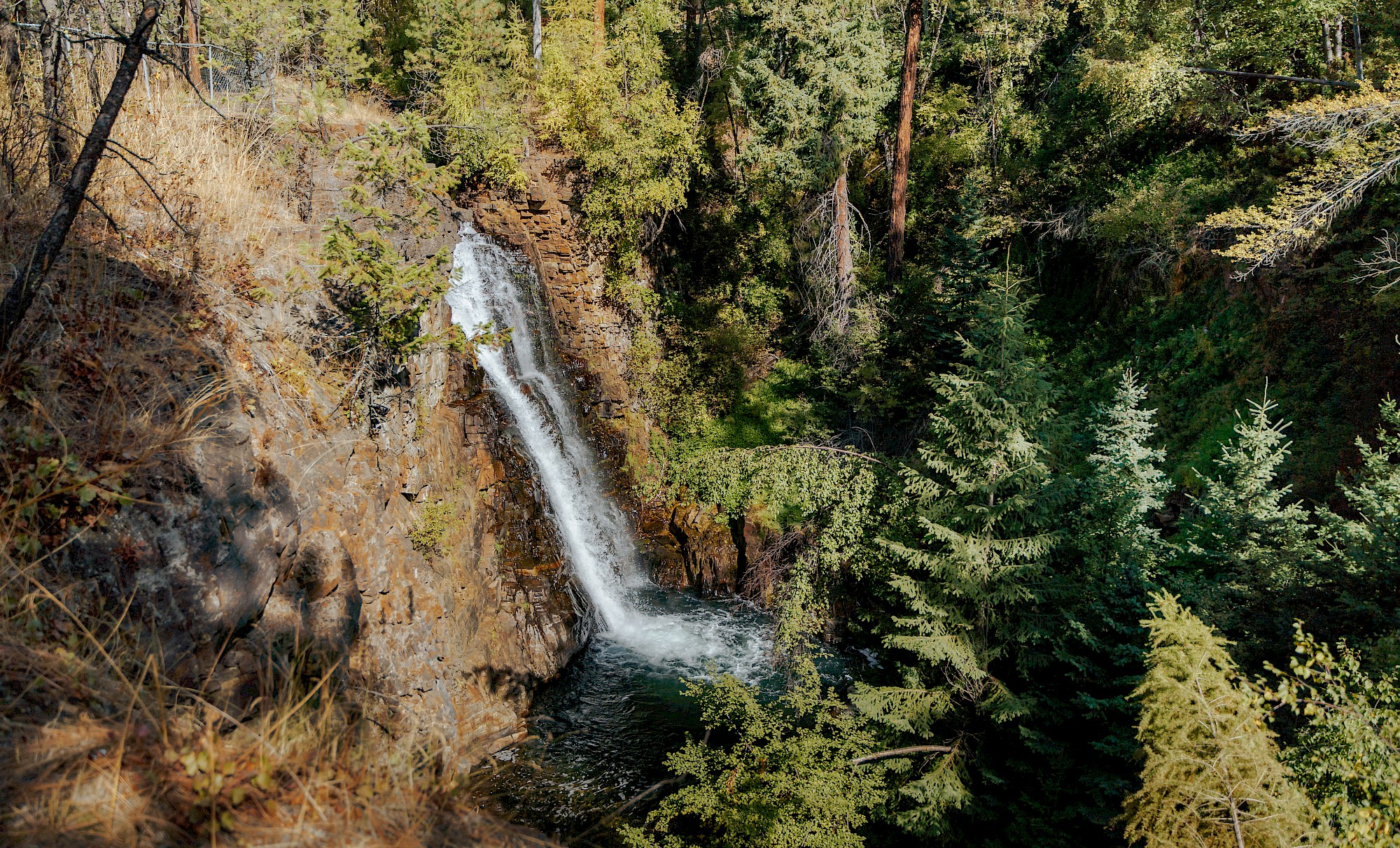 The Last Chase
While the spring freshet makes for the most dramatic waterfall viewing, many of our waterfalls can be enjoyed in the heat of summer, the freeze of winter, or any time in between. To discover more waterfalls in the area, head down to Purcell Outdoors to pick up a copy of Waterfalls in Southeastern British Columbia by local adventurer and writer, Steve Tersmette. Looking for more? There are plenty of other swimming holes and cool-down options to enjoy in Kimberley. We can't wait to make a splash with you!