3 Cheers for Outdoor Beers: 10 Sunny Patios to Visit in Kimberley This Summer
If you know Kimberley, you know we've got no shortage of sunshine or places to clink glasses with friends. Turns out, we're pretty good at making the most of our sun and fun with a healthy handful of laid-back patios, too. From creek-side seating areas, to rooftop roosts, we've got an outdoor space to best suit your sun-seeking and socialising desires. Cheers!
1. The Shed
Smack-dab in the middle of our downtown Platzl, you'll find the beloved Shed patio. This patio has been paving the way for outdoor Platzl seating for a while now, and still stands as a town favourite for post-bike beers and prime people-watching. If the front patio happens to be full, snag one of the breezy window seats at the front of the pub, or head towards the back to take shelter beneath their covered back patio.
2. Biscuit
You may have wandered by Biscuit and noticed the wood-clad patio beckoning you into its front entryway, but did you know that there's also a cool back patio to enjoy during the summer months? This multi-patio place is a favourite with anyone who loves to share food with friends and relax over a good glass of wine. Keep an eye on upcoming events taking place in the Biscuit backyard this summer. We hear some tasty food trucks have been making an appearance 'round back.
3. Overtime Beer Works
This local brewery might get the award for the sunniest patio in our downtown core. The long hours of sunshine that bathe Overtime's patio in the afternoon and evening pair perfectly with their rotating taps and relaxed atmosphere. Other perks of this patio include live music throughout the week, and a bocce pit to play a game or two while enjoying the suds.
4. Golf Courses
We would be remiss without mentioning the 3 sunny patios that dot our beloved golf courses and make even the most challenging round worth celebrating. At Purcell Golf Course, the Raven's Roost patio serves up a regular dose of live music and fun events alongside their cold beer and fresh food. Check out Trickle Creek Golf Club for a patio in a serene mountain setting, with delicious food and a high probability of wildlife viewing. The patio at Bootleg Gap Golf is the biggest of all 3 Kimberley courses: grab every golf buddy you have and enjoy sweeping views of the hoodoos, St. Mary River, and the Rocky Mountains while chowing down on lunch or enjoying a post-play drink.
5. The Koffee Kan
This daytime hot-spot boasts the only rooftop patio in Kimberley and features birds-eye-views of south Kimberley, as well as picturesque views of the St. Mary's Valley and the Purcell Mountains to the West. Our suggestion? Dust off your bike and set out on a paved cruise along the North Star Rails to Trails before stopping in for a well-deserved coffee, lunch, or crisp beer on this sunny rooftop patio.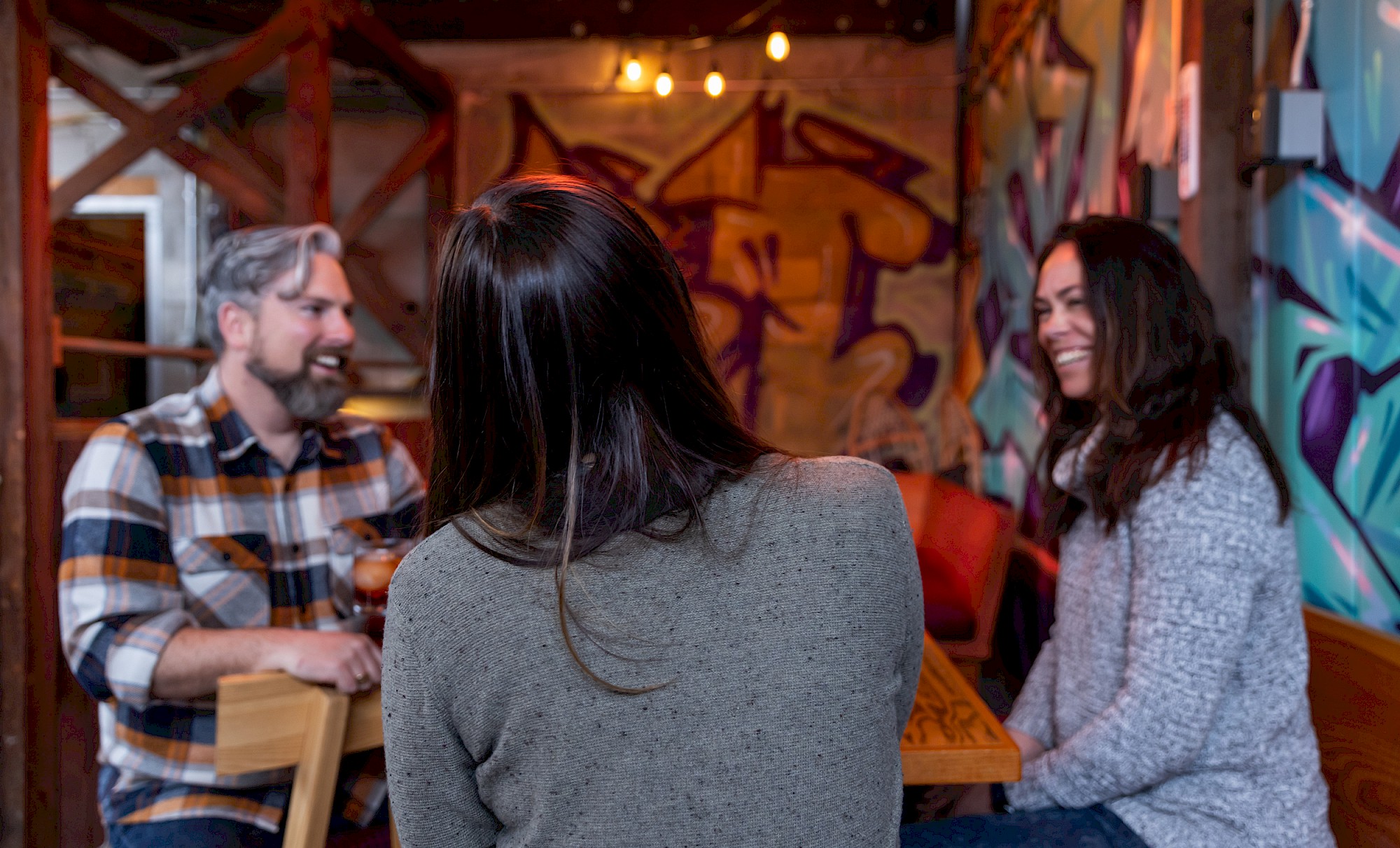 6. Hourglass
An evening spent enjoying craft cocktails and shared plates on the Hourglass patio is an evening we plan on repeating throughout the summer. The garage doors at this trendy spot give an airy indoor-outdoor feel to the space, and the front patio serves up perfect people-watching opportunities as folks wander the cobblestone Platzl.
7. Bohemian Spirits
Tucked alongside the banks of Mark Creek, the patio at Bohemian Spirits is the best place to keep cool all summer long. Dip in Mark Creek after a long hike or bike, then sip something cold and fresh while you dry off on the sunny patio. Let the gurgle of the creek pair with the perfectly crafted cocktails and fun atmosphere, and mark your calendars for social events like Music Bingo throughout the summer months.
8. Stonefire Pizzeria
With plenty of space to wine and dine with all of your friends and family, and front row seats to our infamous Happy Hands Cuckoo Clock, it should come as no surprise that this patio is busy and bustling throughout the summer. We like to think that dinner tastes better when eaten outdoors, and intend to prove this theory all summer long on the Stonefire Patio. Hot tip: grab a patio reservation for any Friday or Saturday night to enjoy live music while relaxing here.
9. Burrito Grill
Snag a table on their front patio during a fun Thursday Night Farmers' Market, or tuck away into the quiet back patio to escape the bustle of the front street. No matter which patio you pick, Burrito Grill's relaxed atmosphere and customizable menu makes a space the whole family will enjoy. Now get down here and grab yourself a margarita!
10. Mountain Grass Gallery & Bistro
For anyone looking to beat the heat and take a break from the sunny skies, Mountain Grass has created a tucked-away oasis that is perfect to enjoy a delicious meal or cool drink in. We love this patio for its lush, garden feel and its serene surroundings. Better yet: the food here is healthy, fresh, and fabulous, and the cold drinks always hit the spot.
Thirsty for more? Wander around town to discover your next favourite patio, or look forward to a food and drink getaway with plenty of inspiration from our Beer & Cocktail Guide or our Flavours of Kimberley blog.