Summer Lovin': Warm-Weather Dates in Kimberley BC
Looking to spark a little romance on your next trip to Kimberley? Raise your heart rate with some adrenaline-boosting fun, or slow down into a relaxed and carefree day with the one you love most. Whether you're looking for a child-free night on the town, or aim to create new memories that you will cherish for years to come, we've got plenty of warm-weathered date ideas to suit every couple that comes here.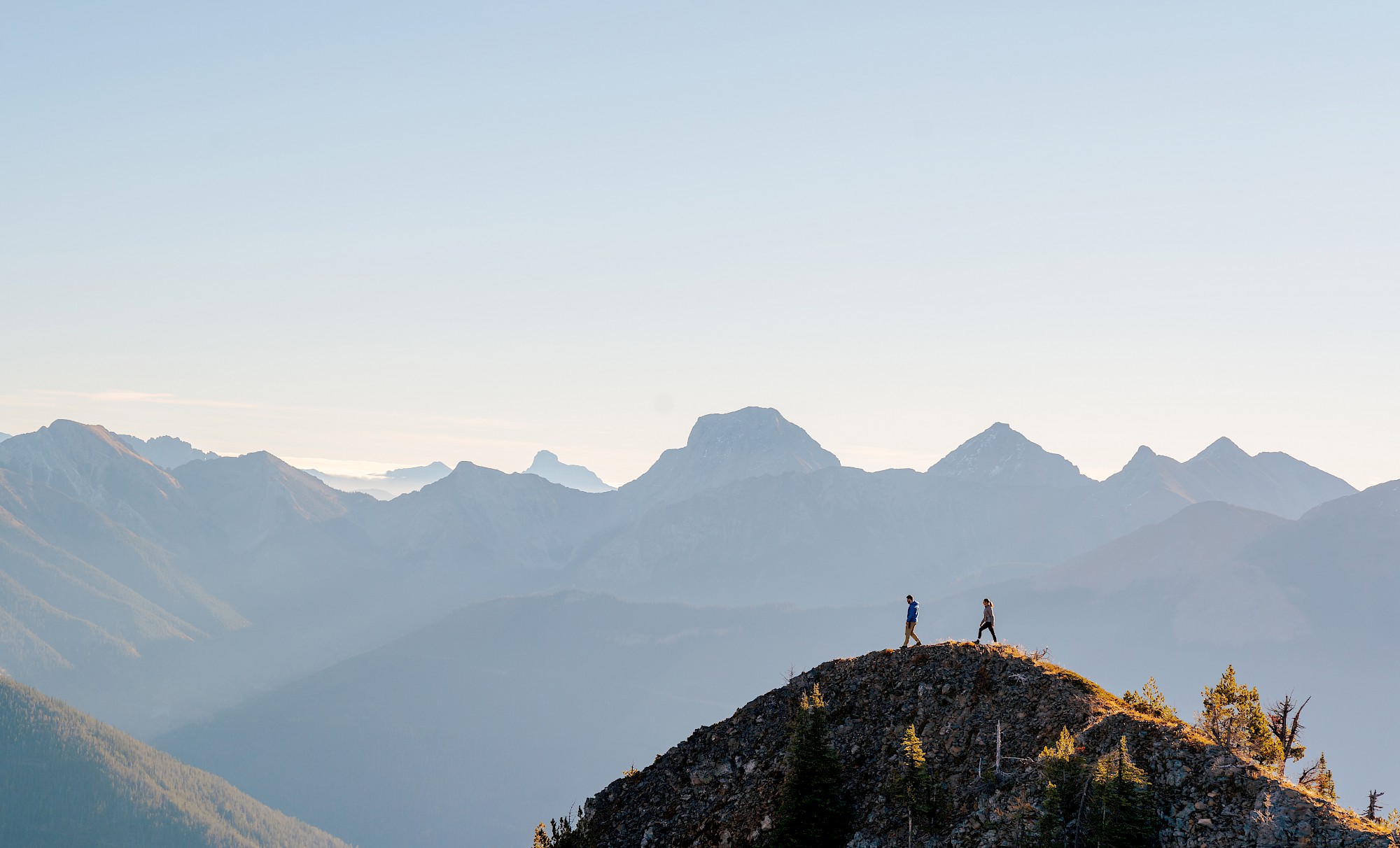 The Adventurous Couple
For those who love to bike, hike, raft, and find a little adrenaline while on vacation with their loved one, strap in and send it full speed ahead into a fast-paced day of fun and excitement.
DO
For dreamy views of the Rocky Mountain Trench, happy hiking couples can gain some serious elevation by heading up the iconic Fisher Peak. If Purcell passion is more your style, head to the heights of Mt. Evans in the St. Mary Valley and make some mountain memories there
Mountain bikers looking to hit the trails can expect to find tons of fun on the fast and flowy trails in the Nordic Centre. Check out local favourites like Rainbow Rock Rodeo, John Travoltege, and The Prestige there. If pedalling uphill isn't your thing, nothing quite shows that you care like shuttling your sweetie up Bootleg Mountain, then chasing each other back down the challenging singletrack there
Looking to leave dry land instead? Rafters rejoice in the guided whitewater tours offered through Kootenay Rafting Co., where the rapids are white and the good times keep rolling
EAT
After a long day on the water or trails, round out the fun with some post-adventure cheer at one of our two local breweries: Grist & Mash or Overtime Beer Works
Once you and your loved one have clinked glasses to a great day outdoors, head into the Platzl to grab dinner at the bike-themed Pedal & Tap, or the woodfired pizza haven Stonefire Pizzeria
Looking to squeeze in a little more fun? Wander along the Mark Creek for an after dinner dip in the refreshing waters there, or head over to The Shed for a post-meal BC beer
STAY
Keep the adventure going by spending the night under the stars at the Kimberley Riverside Campground. This idyllic spot is close to the St. Mary River, surrounded by hiking and biking trails, and is a short drive from our downtown core. Get cozy around the campfire and snuggle with your favourite person in the crisp mountain air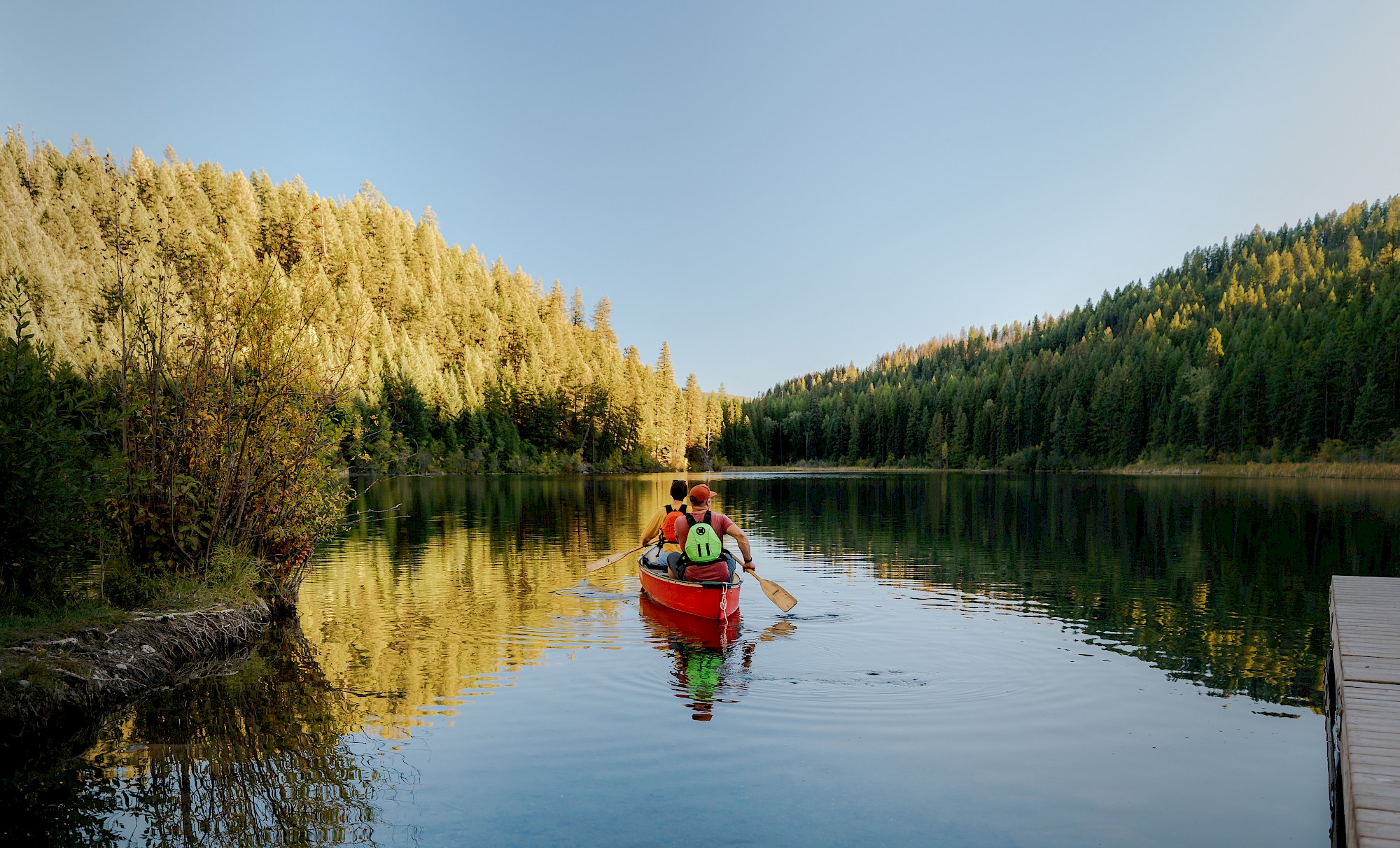 The Laid-Back Couple
A date in Kimberley need not be jam-packed with action, adventure, and adrenaline. Instead, couples looking to ease into a relaxed and carefree day find solace in the peace and quiet of our surrounding nature and in the relaxed atmosphere of our downtown core.
DO
Start the day by grabbing a freshly made coffee from one of our local cafes, or head to Stoke Market for a freshly-pressed juice and some homemade grab n' go treats. After fuelling up on breakfast goodies, peruse the unique shops in our downtown Platzl, and grab a memento or two for your loved one. Be sure to check out the rotating art at The Laundromat and Centre 64 art galleries, and don't miss local attractions like the Kimberley Heritage Museum and the Kimberley Underground Mining Railway
After a morning spent on the town, head up to St. Mary Lake for a relaxed afternoon of paddling or bird-watching. Paddleboard and kayak rentals can be found at the Kootenay Rafting Co., or from the fine folks at the Kimberley Riverside Campground
While relaxing at the lake, enjoy a picnic on the shore or at a picturesque bend along the St. Mary River
EAT
For picnic goodies, we love the healthy and delicious takeout meals from Mountain Grass Kimberley, or a handheld and perfectly transportable burrito from Burrito Grill. Pack a cooler with as many local delicacies that you can find, and tuck into your selections while shore-side
A relaxing day in Kimberley deserves a relaxing night out on the town. Our suggestion? Head to Biscuit to enjoy elevated shared plates, fine foods, and an extensive wine and cocktail list. This spot is welcome addition to our Platzl offerings, and is the perfect way to transform a relaxing day into an evening of ease
STAY
Stay near our downtown core to be in close proximity to our shops, art galleries, and our restaurants. The Larix is our boutique downtown hotel, which prides itself on personal touches and extra comfort. Cozy up to your loved one with a nightcap around the glowing fireplace there, and revel a day well-spent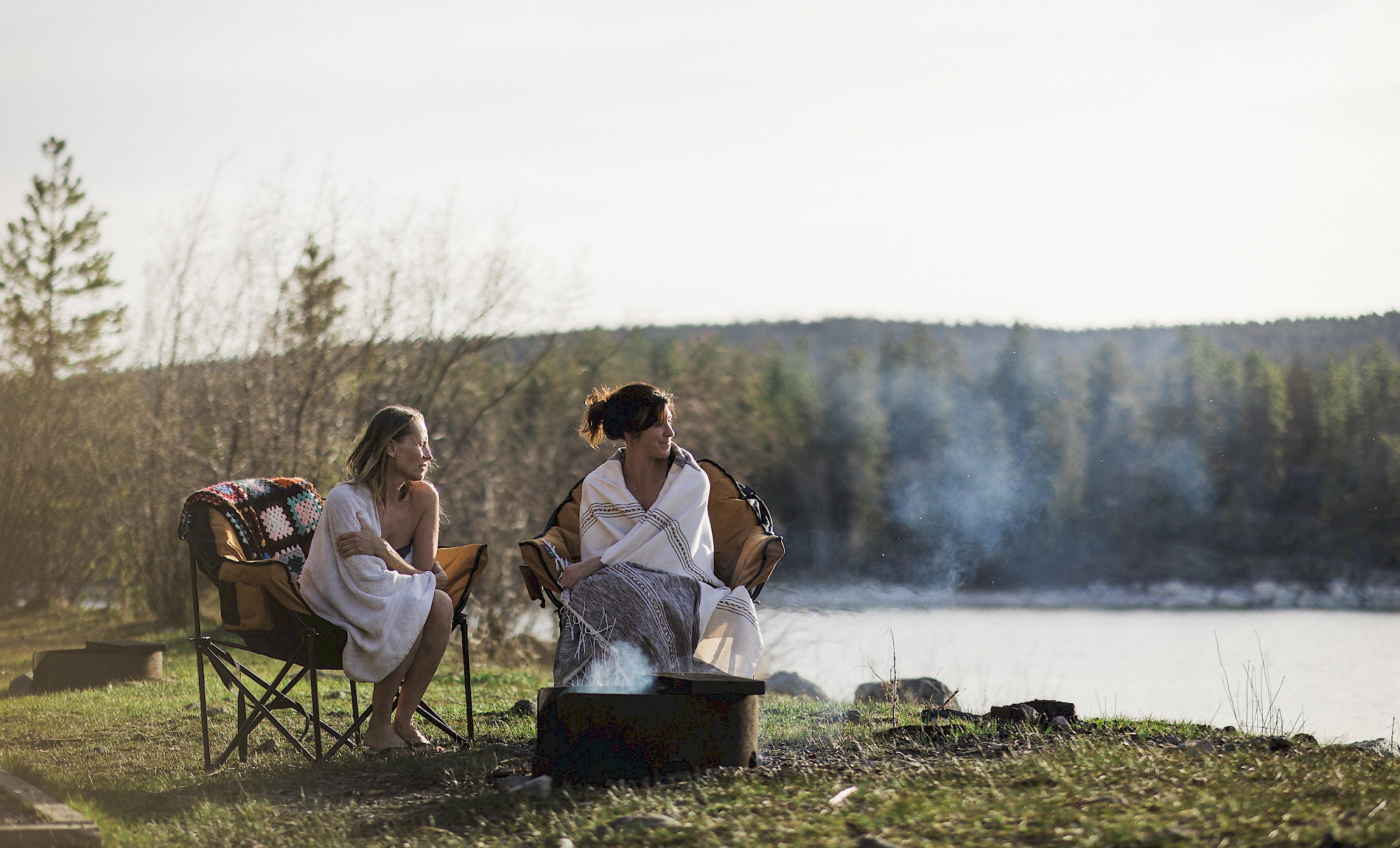 The Foodie Couple
Sometimes, eating is the activity. For couples with a special affinity for food, a day spent wandering the town and savouring our local offerings is the perfect way to connect with a loved one and get to know the community along the way.
DO
On today's to-do list: eat!
EAT
Start the day as fresh and local as possible with a roasted-in-Kimberley cup of coffee at our community roastery, Kickturn Coffee. After enjoying a hot latte or a creamy cappuccino there, head down the block for some hand-milled and freshly baked goods at Bread & Butter. Those looking for a more substantial breakfast need not look any further than our newest brunch spot, Deer Park Diner. Enjoy a wide range of unique dishes there, and wash everything down with a mimosa or homemade milkshake
Lunch can be enjoyed at hidden gems such as Nina's Hillside Garden (ask a local to point you in the right direction!) or the backyard garden oasis of Mountain Grass Kimberley
If you happen to be in Kimberley on a Thursday evening, head on over to the weekly Kimberley Farmers' Market to enjoy artisanal products, farm-fresh produce, and locally-made foods. After filling your baskets with market wares, get ready to tuck into a multi-course meal at The Old Bauernhaus. The Bavarian Fest here is a culinary experience that all duos should tuck into while in Kimberley
To satisfy a sweet tooth, enjoy the delicious treats from Grow Cake & Chocolate and La Lune Candy Shoppe, or dig into a drool-worthy ice cream from Lickity Split or Summit Snacks
STAY
We recommend that foodies stay at the Trickle Creek Lodge to be in close proximity to the delicious Buckhorn & Main Mountain Eatery and to drink in the picturesque views of the Rocky Mountains from the suite balconies there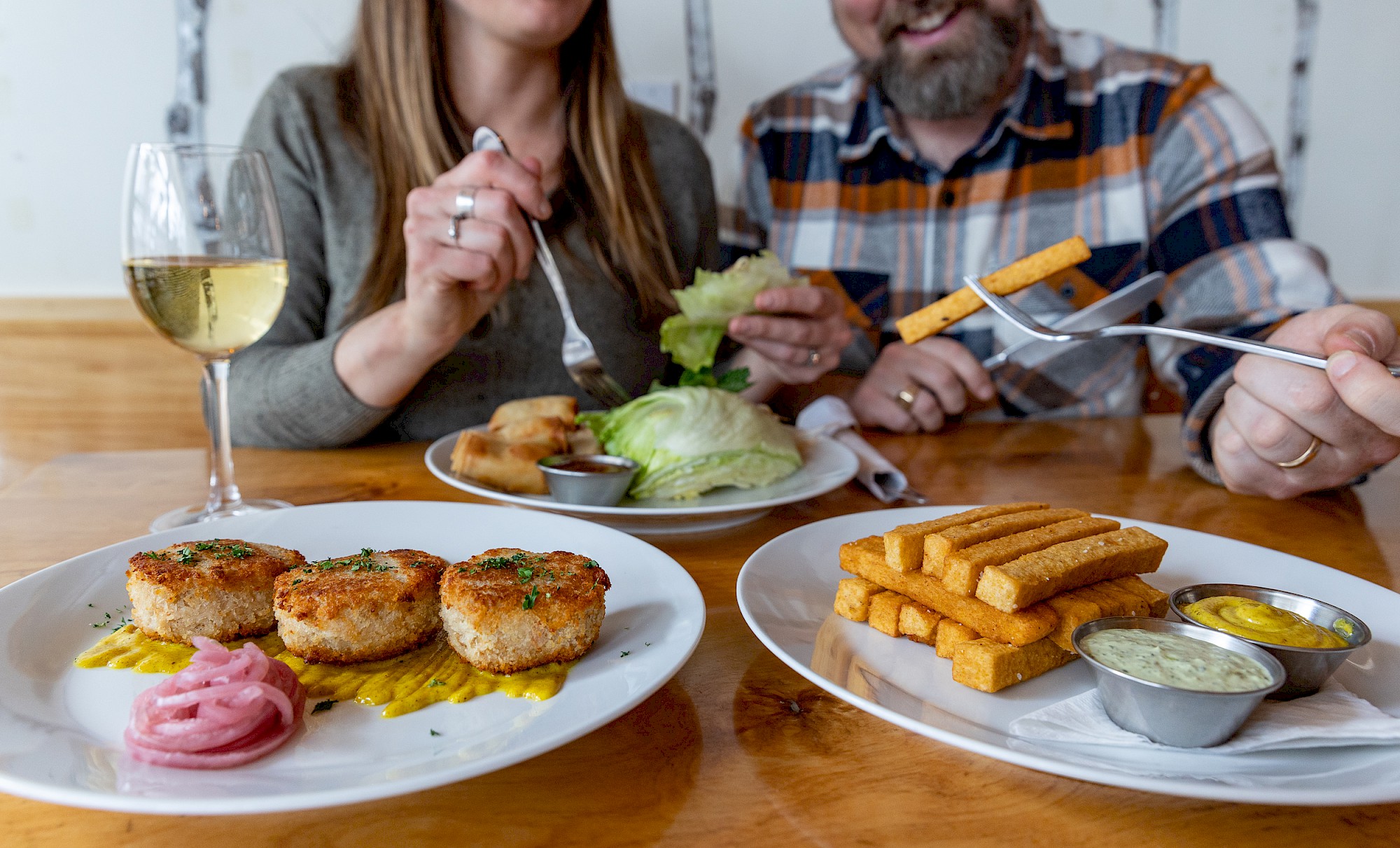 Bonus: The Musical Couple
For artistic couples who want to groove their way through the streets of Kimberley, be sure to check out the current line-up of rotating acts at Centre 64, the live music Thursday nights at Grist & Mash Brewery, and the complimentary shows that take place Friday and Saturday nights at Stonefire Pizzeria. When not on the dance floor, browse the vinyl selection at Arrow & Axe and groove to some home-town yodelling with Happy Hans at the infamous Kimberley Cuckoo Clock.
Looking to discover more romance and good times in Kimberley? Our seasonal itineraries are packed full of insider tips and know-how to make your most memorable vacation happen. Let us take care of the planning, and set you up for success throughout your stay.