Spring Itinerary: 3 Days of Adventure in Kimberley BC
Day 1: Ski
Your first day adventuring in Kimberley is for making fun, slushy turns under sunny skies at the Kimberley Alpine Resort.
Start your day with a big breakfast and plenty of adventure fuel. Our recommendation? Stay slope-side all day with breakfast from the Stemwinder Bar & Grill. The "Stemmy" offers classic breakfast favourites, and enough fresh Jo to keep you caffeinated and energized on the spring corn. After breakfast, head to the "front side" of the mountain to enjoy runs like Rosa and Moe's. Then, chase the sun to the "backside" in the afternoon with soft mogul laps down Anton's

Tip: mix and mingle with locals on the chairlifts to discover the best spots to soak up some sun on the Mountain. Legend has it that our "sun pits" transform in the final weeks of the season, with music, laughs, and even the odd BBQ feast or two
If you happen to hit the final weekend of the ski season here, be sure to take part in all of our great Spring Splash activities. Favourite events include the splash pond, the mogul course, and the live music streaming through the Plaza
All runs lead to the Stemwinder Bar & Grill at the end of the day. Share a pitcher of BC beer with locals there, then head next door to Buckhorn & Main Mountain Eatery for a well-deserved post-ski meal. Buckhorn & Main features everything from decadent prime rib steaks to elevated pub grub and tasty cocktails. After a full day on the Mountain, head back to home base to wind down, relax, and catch a little shut-eye before your second day of springtime adventure-seeking
Ski and snowboard rentals can be found at the base of the Mountain, and passes can be purchased at the Ticket Window or online here.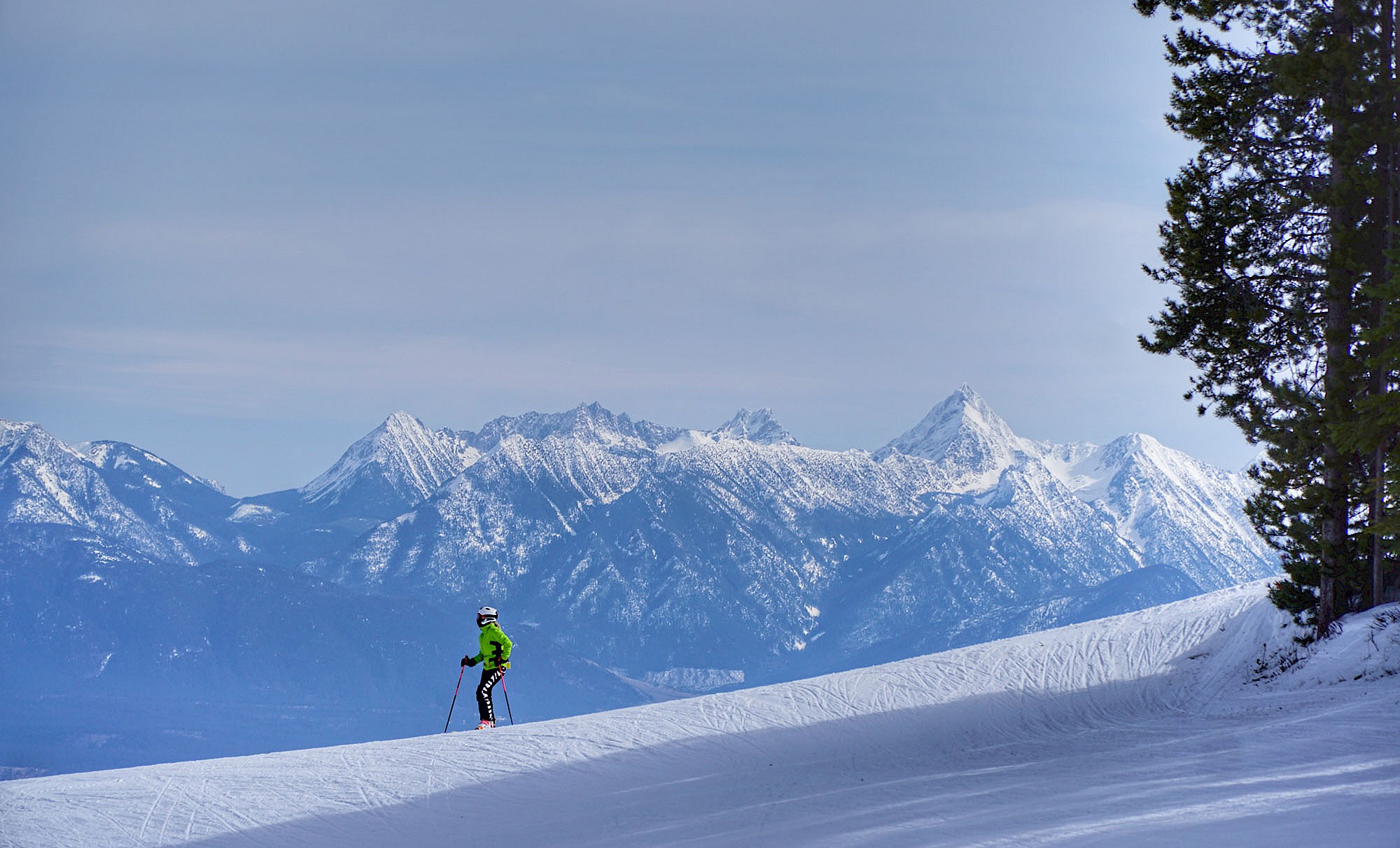 Day 2: Bike
Day two is for hopping on the saddle and taking in some of our fabulous early-season biking.
Start your day with a quick and tasty breakfast and fresh espresso at one of our local cafes like the Beantree Cafe, the Snowdrift Cafe, or Grace Cafe & Preservatory. Be sure to grab a few extra goodies to take with you on the trails, then head out in search of dry trails and warm, spring sun. While some of our trails stay snowy into early June, south-facing trails like Sunflower Hill, Apache, and Lower Thunder Turkey can be enjoyed earlier in the season
For those who prefer to take the road bike, gravel bike, or e-bike out for a spin, we've got plenty of choices there, too. Road-riders or e-bikers can enjoy a cruisy 52km round-trip on the North Star Rails to Trails paved path between Kimberley and neighbouring Cranbrook. For those who prefer to gravel-grind, start your ride downtown in Kimberley's Platzl, then head 7km South before taking a right-hand turn onto St. Mary Lake Road. Follow this road for 16km to find the shores of picturesque St. Mary Lake, which offers views of the Purcell Mountains and the St. Mary Valley
Wrap up the day with wood-fired pizzas from Stonefire Pizzeria. While here, be sure to grab an appetizer or two to share with the table (we like their bruschetta and wood-fired wings), and dabble in their selection of local, BC beers. After dinner, head across the Platzl to enjoy a nightcap at the Hourglass Lounge. This space is comfortable, casual, and a great spot to mingle with other adventure-loving locals
​​​Mountain bike and e-bike rentals can be found in downtown Kimberley at our two kick-ass bike shops: Black Dog Cycle & Ski and Bootleg Bike Co.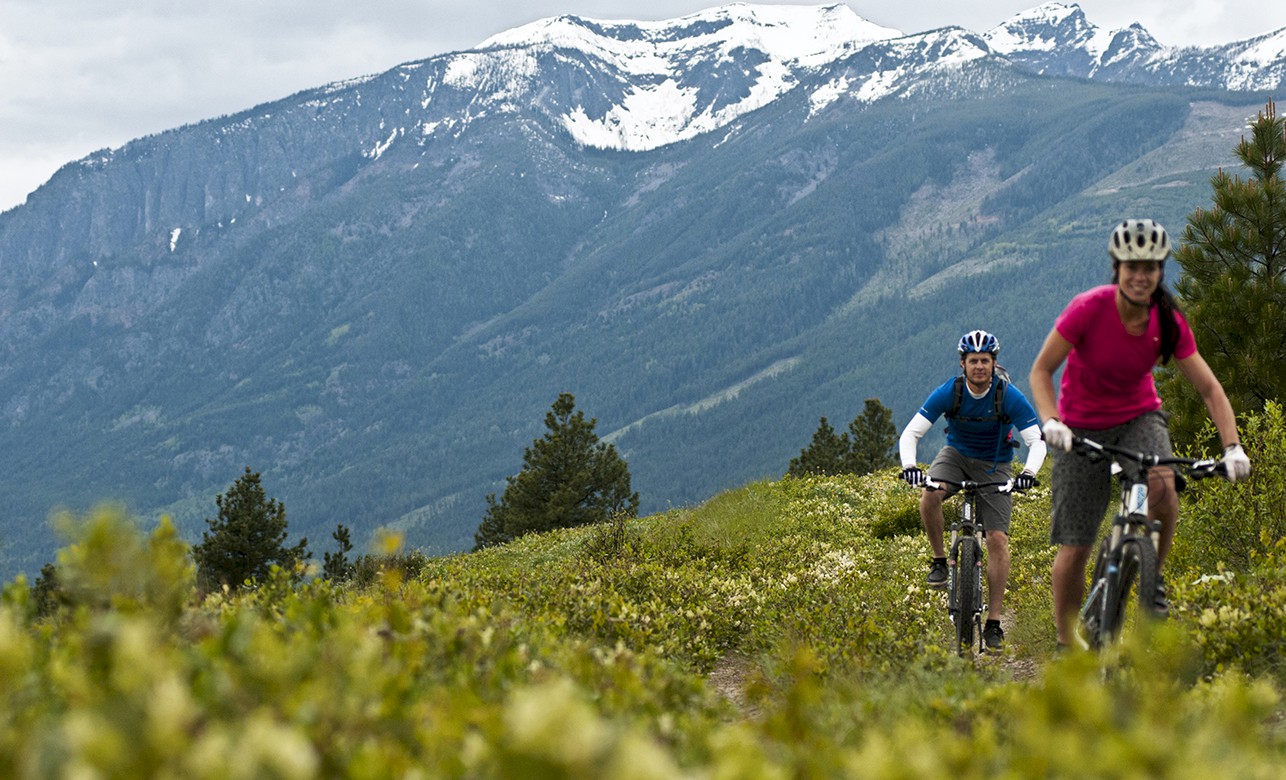 Day 3: Climb
On your final day here, gain a little altitude by connecting with warm, sun-kissed rock at one of our surrounding climbing crags.
To enjoy some springtime sport climbing, head to the St. Mary crag. With over 30 routes to choose from and bird's eye views of St. Mary Lake to enjoy, this area is a must-visit for anyone looking to tackle variable problems in the Purcell Mountains. For those who would rather try their hand at some bouldering problems, head further south to the Perry Creek crag. While this area also boasts sport climbing routes, it features nearly 30 unique bouldering problems with a good range of difficulty to accommodate all levels of climbers
For those who prefer to keep their climbing indoors, check out the great routes at Spirit Rock Climbing Centre. With plenty of bouldering problems, a moon board, and routes that can be enjoyed by auto-belay, top-roping, or lead climbing, this place has a little something for everyone. Gear rentals and lessons are available on-site
Keep things casual during your last night in town with patio pints and plenty of takeout goodies. The patio at Overtime Beerworks is one of the best spots in town to soak up that spring sunshine. Because they don't have a full menu of their own, patrons are more than welcome to bring outside food to nosh on while enjoying the freshly-brewed Overtime suds. We suggest ordering in from Sinclair's Catering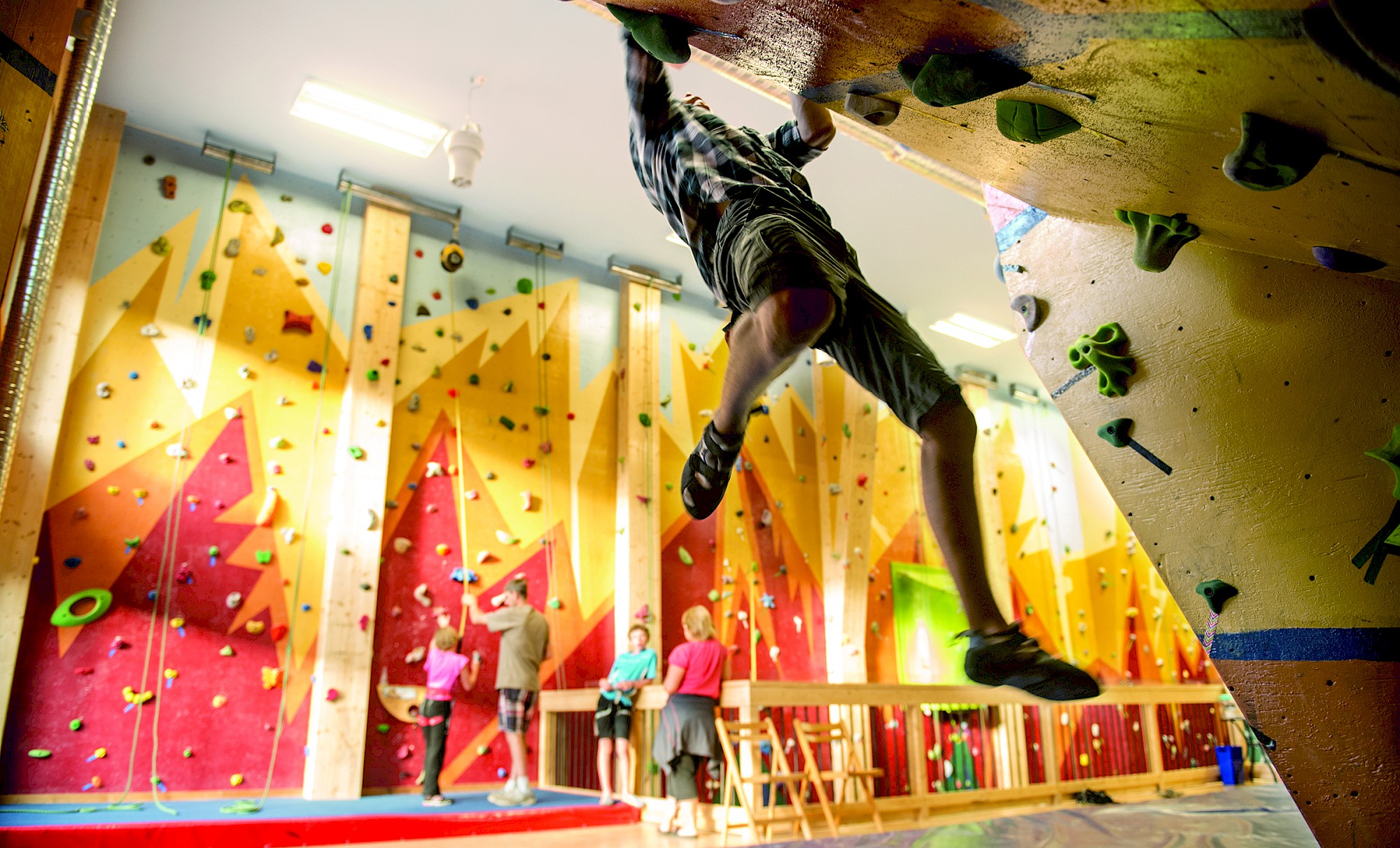 Eager for more? While 3 days is a great start, there's certainly more fun to be had here. Extend your stay to check out our hiking trails, the early-season paddling on our thawing waterways, or the guided horseback riding options in the area. Psst... we hear winter, summer and fall are pretty darn fun, too.