Splash into Summer: 10 Swimming Holes We Love Near Kimberley BC
Summertime in Kimberley means soaking in the abundant sunshine, finding adventure on foot or by bike, and, best of all, enjoying plenty of cool times at a local waterway. For those looking to make a splash this summer, we're chock-full of places to find a little chill. From fresh, mountain-fed lakes, to waterfalls and right-smack-in-the-middle-of-town creeks, we've got cool-down options for families, adventure-seekers, and everyone in between.
Hint: our waterways are best served with a fishing rod in hand, a SUP, kayak or "floaty" to lounge on, and plenty of tasty goodies to help fuel the fun all day long. Be sure to stock up on rental gear from the Kimberley Adventure Centre or the Kootenay Rafting Company, grab some inflatables at Kimberley's Great Canadian Dollar Store, and swing by Stoke Market for a full selection of grab n' go goodies.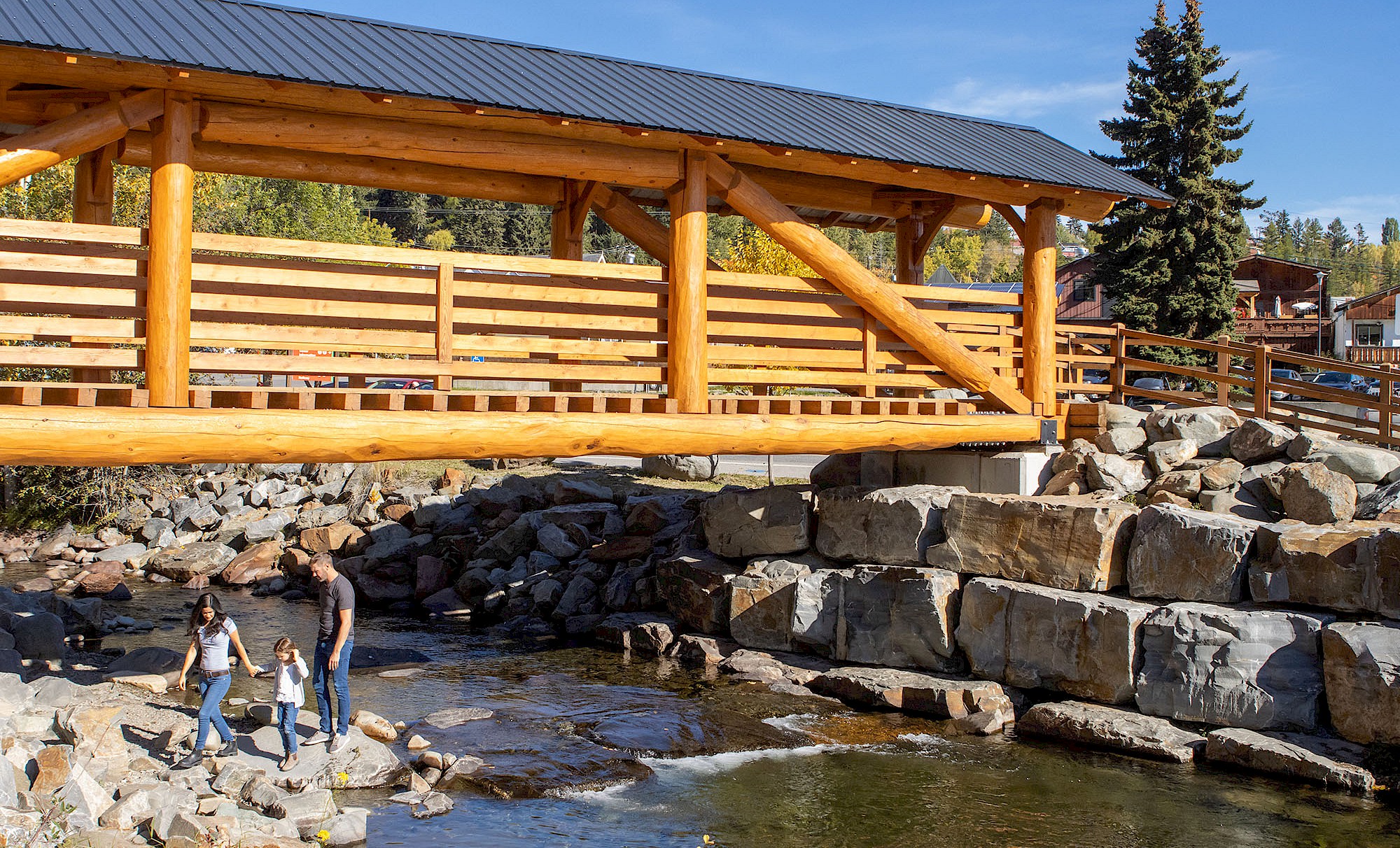 1. Marysville Falls
Just a short drive away from our downtown core, you'll find beloved Marysville Falls. Enjoy the 10-minute stroll down a wooden walkway and along Mark Creek, before reaching the penultimate viewpoint overlooking a 30-meter waterfall. Then, head back to the start of the trail to plunge into the refreshing pool under the foot bridge. If you're still warm following your cold plunge, head up the street towards Lickity Split for a double scoop of something sweet, cool, and delicious.

Get here: From the Platzl, drive or bike about 7km south through the traffic lights until you reach Marysville Falls. Parking is available along the street, or directly across the road at the Marysville Falls Eco Park.
2. St. Mary Lake
For those looking to branch out a little further from town, St. Mary Lake and the peaceful shores of the St. Mary River make for an idyllic place to spend a sunny day. Tucked into the picturesque Purcell Mountains, this spot is a long-time favourite among locals and visitors alike. This area provides plenty of opportunity for fishing, paddling, bird-watching, or white water rafting, and the public use area on St. Mary Lake also comes equipped with picnic tables and fire rings for all of your lunchin', brunchin', and s'mores-eating desires!
Get here: From the Platzl, head south through the traffic lights and down Wallinger Avenue. After 6 km, turn right onto St. Mary's Lake Road, and continue along the road for approximately 15 km. Turn left off the main road and cross over the St. Mary River, before taking a right hand turn and arriving at the day use area.
3. Cherry Creek Falls
Those looking to head north out of town will be met with a smattering of creeks, lakes and rivers to plunge into along the way. One of our favourites close to town is Cherry Creek Falls. This mellow waterfall is the perfect place to beat the heat on a hot day. With plenty of shade from the surrounding coniferous trees, and a natural rock "waterslide" to carry you into the refreshing waters, it's a fun spot to cool down with family or friends.

Get here: Cherry Creek Falls can be found following an 11km drive north out of town. After heading down Highway 95-A for about 7km, turn left onto Thomason road and follow signage for Cherry Creek Falls. Then, take a right onto Clarricoates Road, and continue straight onto Ta Ta / Lost Dog Forest Service Road to find the falls.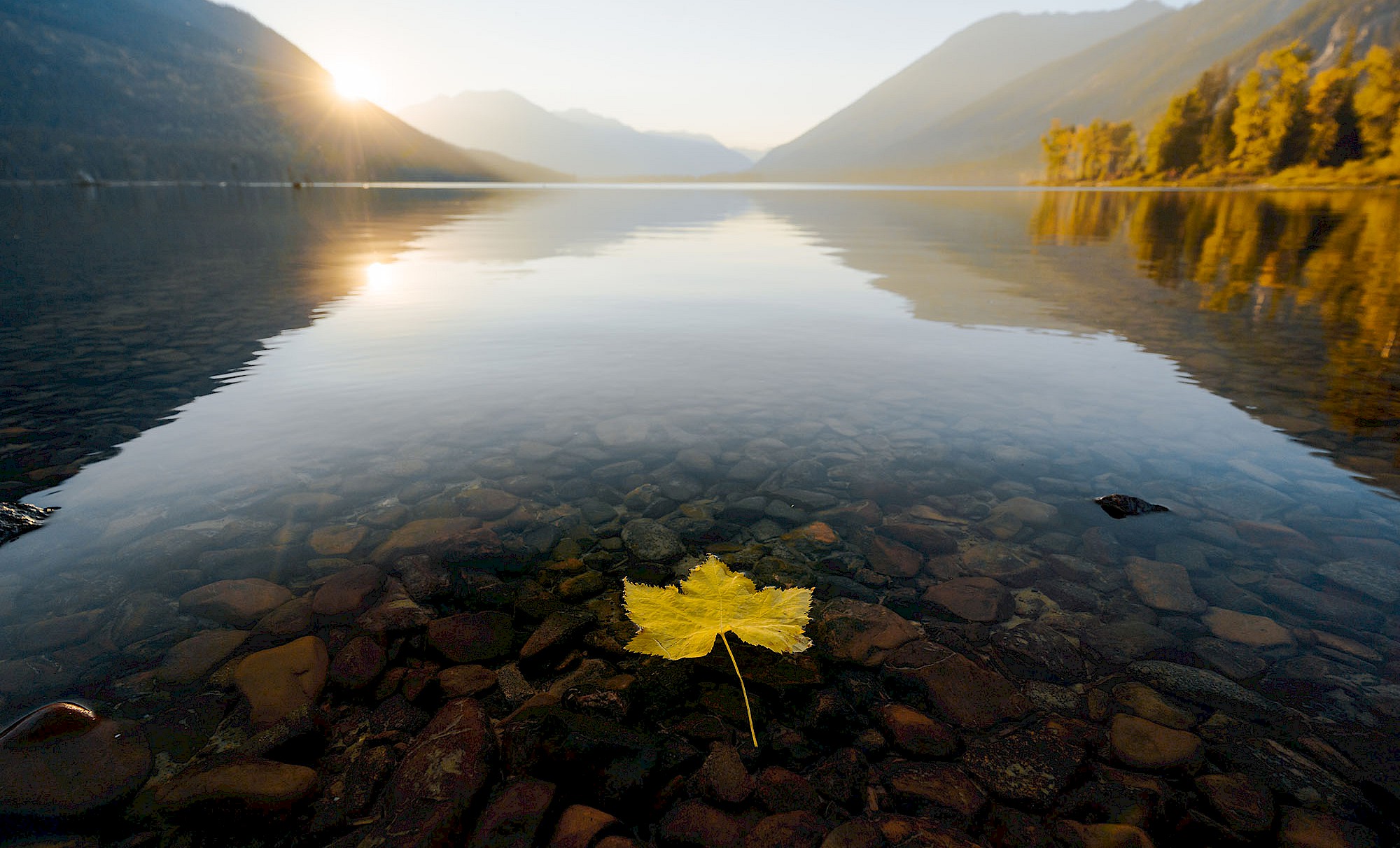 4. Hahas/Stoney Lake
Head about 25 minutes north of town for this warm-water camping and day-use area. Hahas Lake is a great spot for easy paddling, trout fishing, and fun-for-the-whole-family splashing. The shallow waters here ensure comfortable swimming temperatures, and the day-use area provides fire rings, picnic tables, and a small dock for sunning. Fun fact: this lake is referred to as both "Hahas Lake" and "Stoney Lake." If looking for signage, keep an eye out for "Hahas Lake," but if asking a local for directions, give "Stoney Lake" a try.

Get here: drive north along Highway 95-A for 18km before making a left hand turn off of the highway and onto Lost Dog Forest Service Road. From here, keep left at the next fork and drive until you see signage for Hahas Lake.
5. Wasa Lake Provincial Park
As it's one of the sandiest lakes in the area, Wasa Lake is a definite favourite among families. This lake is also known as being one of the warmest around, has 3 separate beaches to choose from, and is a good spot for boaters looking to try some water skiing or tubing. Additionally, Wasa Lake offers an 8km wheelchair-accessible paved path around the lakeshore, as well as a 2.7 km self-guided interpretive trail, and plentiful camping options a stone's throw away from the water.

Get here: drive north along Highway 95-A before making a right hand turn onto Highway 93 South. After another 3 km, turn left off the highway and onto Wasa Lake Park Drive.
6. Lazy Lake
Lazy Lake, or "Rock Lake," is a beautiful, crystal-clear lake tucked into the Rocky Mountains behind the more-popular Wasa Lake. Expect to find paddlers, fishers, and plenty of brave cliff-jumpers here. Tip: this lake is also close to a local-favourite hiking spot, Mt. Stevens. We hear that a plunge into Stoney Lake makes for the perfect post-hike cool down.

Get here: drive north along Highway 95-A before making a right hand turn onto Highway 93 South. Follow the highway for another 5 km before making a left turn off the highway. Drive along the south end of Wasa Lake before making a right hand turn onto Lazy Lake Road. Follow this road for another 13 km before arriving.
7. Premier Lake Provincial Park
One of our favourite places to camp near Kimberley also happens to be one of our favourite places to cool off. Premier Lake Provincial Park offers a playground, a large dock, hiking trails, and plenty of spots along the shore to relax and splash. If you catch Premier Lake on a busy day, fear not! There is a smattering of other lakes within arms reach, such as Cat's Eye and Quartz Lake. Plus, we hear there's an easy 6km hiking trail within the Park that takes you to Turtle, Yankee and Canuck lakes.

Get here: drive north along Highway 95-A for 42 km before turning right onto Premier Lake Road. From here, follow park signage as the road winds along Sheep Creek Road and onto Premier Ridge Road.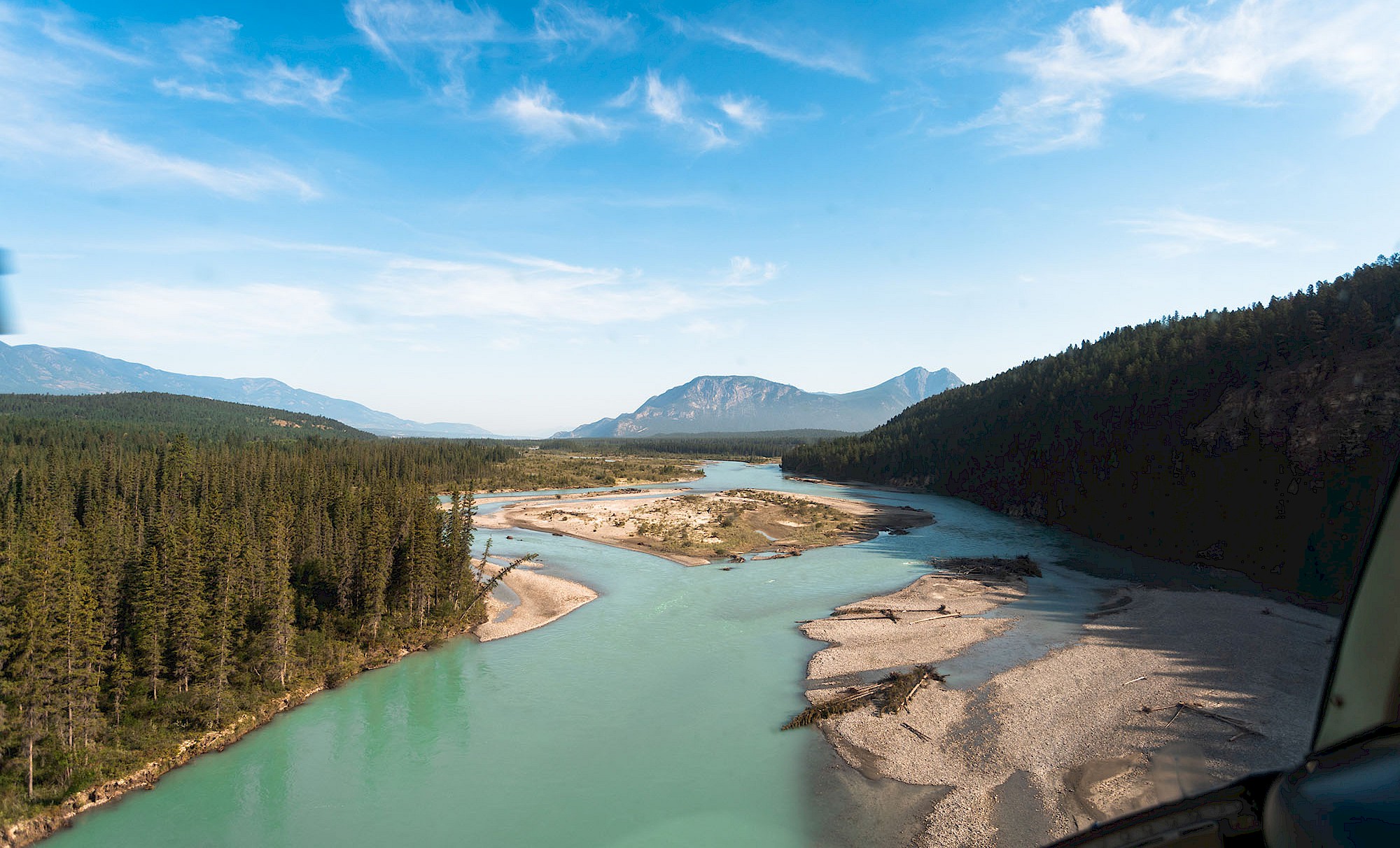 8. Whiteswan Lake Provincial Park
Branch a little further north away from town to visit secluded and beautiful Whiteswan Lake Provincial Park: home to Whiteswan Lake, Alces Lake, and the Lussier River. We love this spot for the deep-in-the-Rocky-Mountains feel, the wildlife viewing (birders, bring your binoculars!), and the blissful solitude. Rumour has it that adventuring in this direction might unveil some natural hot springs, and opportunities to explore further in neigbouring Top of the World Provincial Park, too!

Get here: follow Highway 95-A North for 65 km before making a right hand turn onto Whiteswan Lake Forest Service Road. Continue along this road for another 20 km before reaching Alces Lake and Whiteswan Lake.
9. Peckham's Lake
On Highway 93 between Wasa Lake Provincial Park and our neighbouring town of Cranbrook, you'll find a clear and cold lake, dwarfed by the Rocky Mountains. Peckham's Lake is part of Norbury Lake Provincial Park, and is a great day-use lake for paddling, cooling off after a long hike, or sunning on the shoreline. Bonus: from here, you're in close proximity to Fort Steele Heritage Town, which is a great visit for all ages, and an important piece of the region's history.

Get here: drive north along Highway 95-A before making a right hand turn onto Highway 93 South. Follow Highway 93 for another 23 km before turning left onto Wardner Fort Steele Road. Continue until you see signage for Norbury Lake Provincial Park on the left hand side of the road.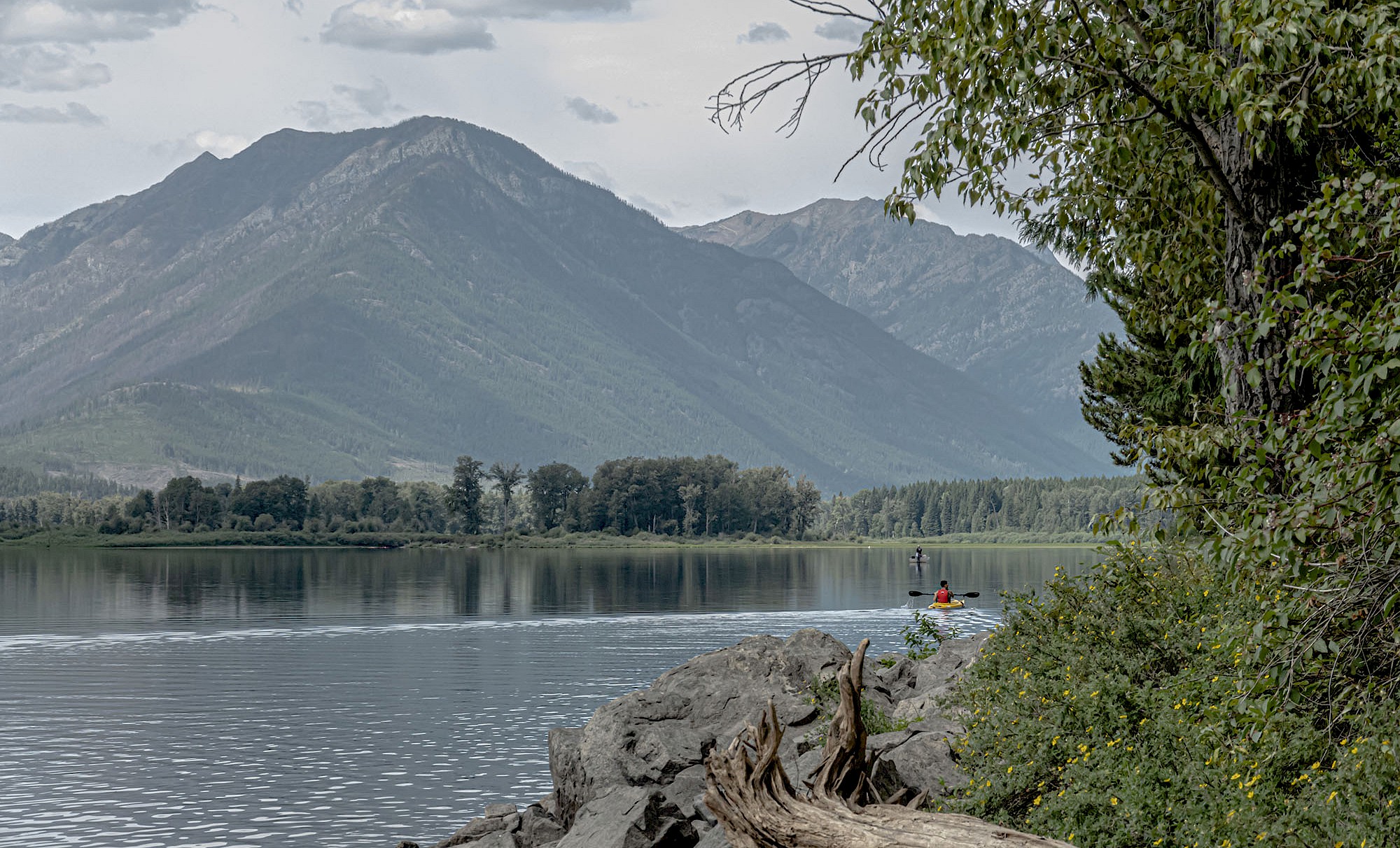 We're lucky here in Kimberley to have plenty of surrounding lakes, rivers, and creeks to enjoy. After all, the best summer days always include a good old-fashioned cool-down in a refreshing mountain waterway. Looking for more water-inspiration? Check out our Wet, Wild, Rapids and Bully For You blogs for more wet n' wonderful Kimberley adventures!