Our Winter Favourites: Outdoors Edition
The snow-capped Rockies and consistent snowfall aren't the only perks to wintering in Kimberley. Winter here means gliding across perfectly groomed cross-country trails, sliding down snow-covered hills with friends and family, or skiing under the stars on North America's longest lit run. Come for the Purcell powder and year-round sunshine, then stay to immerse yourself in all of our outdoor magic.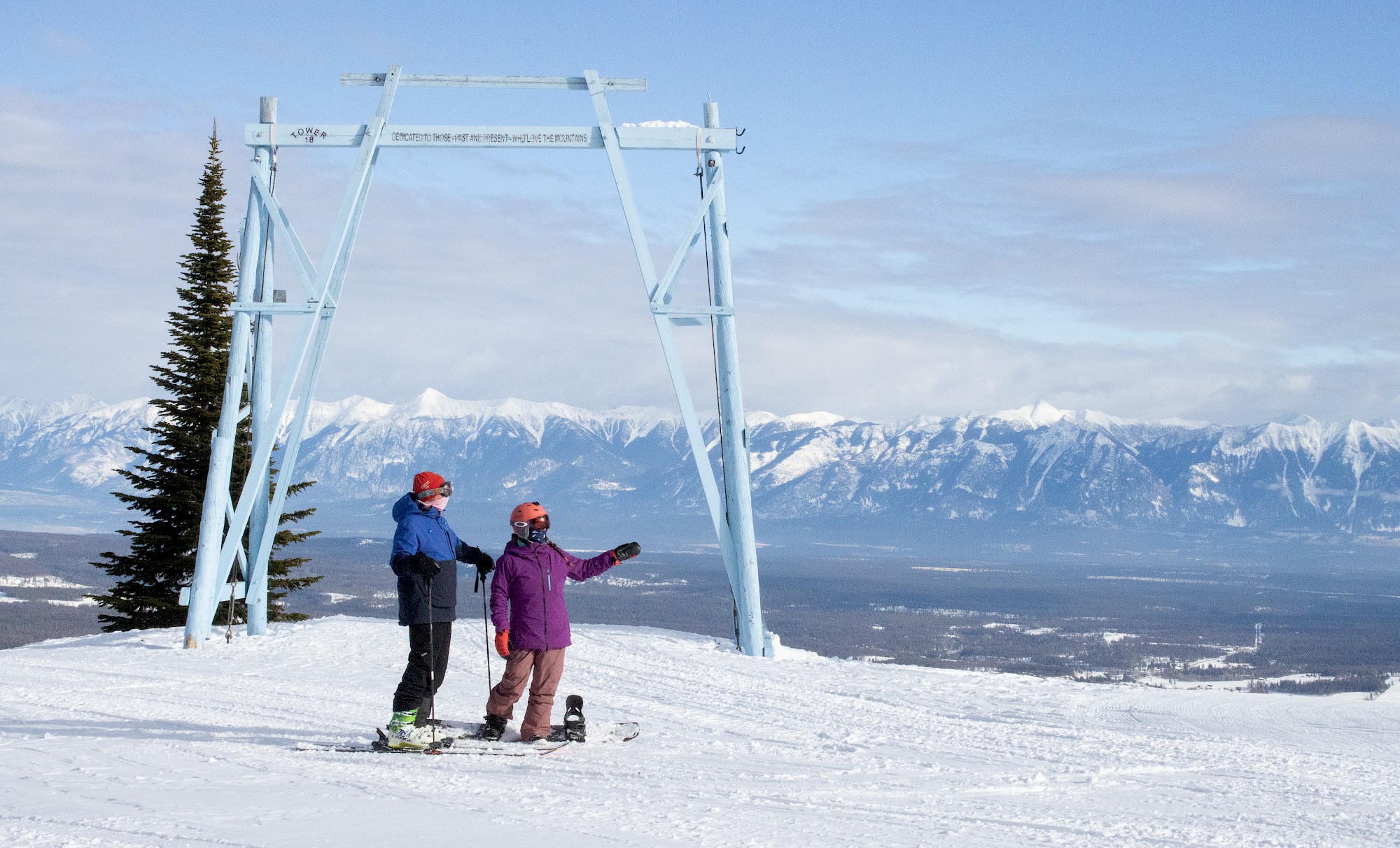 Ski. No winter trip here would be complete without a day or two spent carving down the slopes of the Kimberley Alpine Resort. Whether you opt for black runs on the back side, or choose to hot-lap The Main during a moonlit night ski, there's a new favourite run to discover for all ages and abilities. If a cross-country cruise is more your style, head to the Kimberley Nordic Club to enjoy over 30 km of trails and impressive views of the Canadian Rockies. These tracks are groomed with both classic and skate skiers in mind, and accommodate all levels of nordic skiers. Classic and skate ski rentals are available at the Kimberley Nordic Kiosk, while downhill gear can be found in the Kimberley Alpine Resort Rental Shop.

Heads up: furry friends are not allowed on the established Nordic Club trails during the winter months. If you have a four-legged friend in tow, head to the Kimberley Nature Park or Lois Creek Trail System to cross-country ski the groomed trails there.
Hit The Trails. Grab your fat bike, your snowshoes, or your favourite runners, and get moving. With over 50 km of groomed trails to enjoy throughout the winter months, we've got no shortage of routes to ride, glide, or run your way through. Looking to veer away from our established routes? We recommend chasing a frozen waterfall or two by exploring areas such as Marysville Falls, Meachan Creek Falls, or Lumberton Falls.

Gear up: Fat bikes can be rented at our two local bike shops, Black Dog Cycle & Ski and Bootleg Bike Co., or from the friendly folk at the Kimberley Alpine Resort. Be sure to check out our safety tips before heading out, or stop by the Kimberley Visitor Centre to grab a trail map and some route suggestions.
Bird-Watch. Wander down the BC Bird Trail to take in the feathered friends that winter here. Of the 97 species of birds that call Kimberley home, approximately 25 bird species reside here year-round. Birds to view in the winter here include woodpeckers, chickadees, nuthatches, grouse, grosbeaks, and crossbills. Bring your binoculars and wander the groomed trails in the Kimberley Nature Park, or head out to the shores of St. Mary Lake to watch our snowbirds skim across the frozen waterways.
Skate. Grab some skates from the Rental Shop at the Kimberley Alpine Resort, then get ready for a game of pick-up hockey with the local crowd at a neighbourhood ice rink. Find outdoor rinks in the neighbourhoods of Townsite and Marysville, as well as at Swan Park and Garden Park. Dreaming of frozen lakes and more off-the-beaten-path skating? Make the short drive out to Wasa Lake Provincial Park for beautiful views of the Canadian Rockies, and smooth ice along the frozen waters. Wasa Lake has a resident-maintained 3km path to skate on, plus a great outdoor rink at the Wasa Lions Grounds.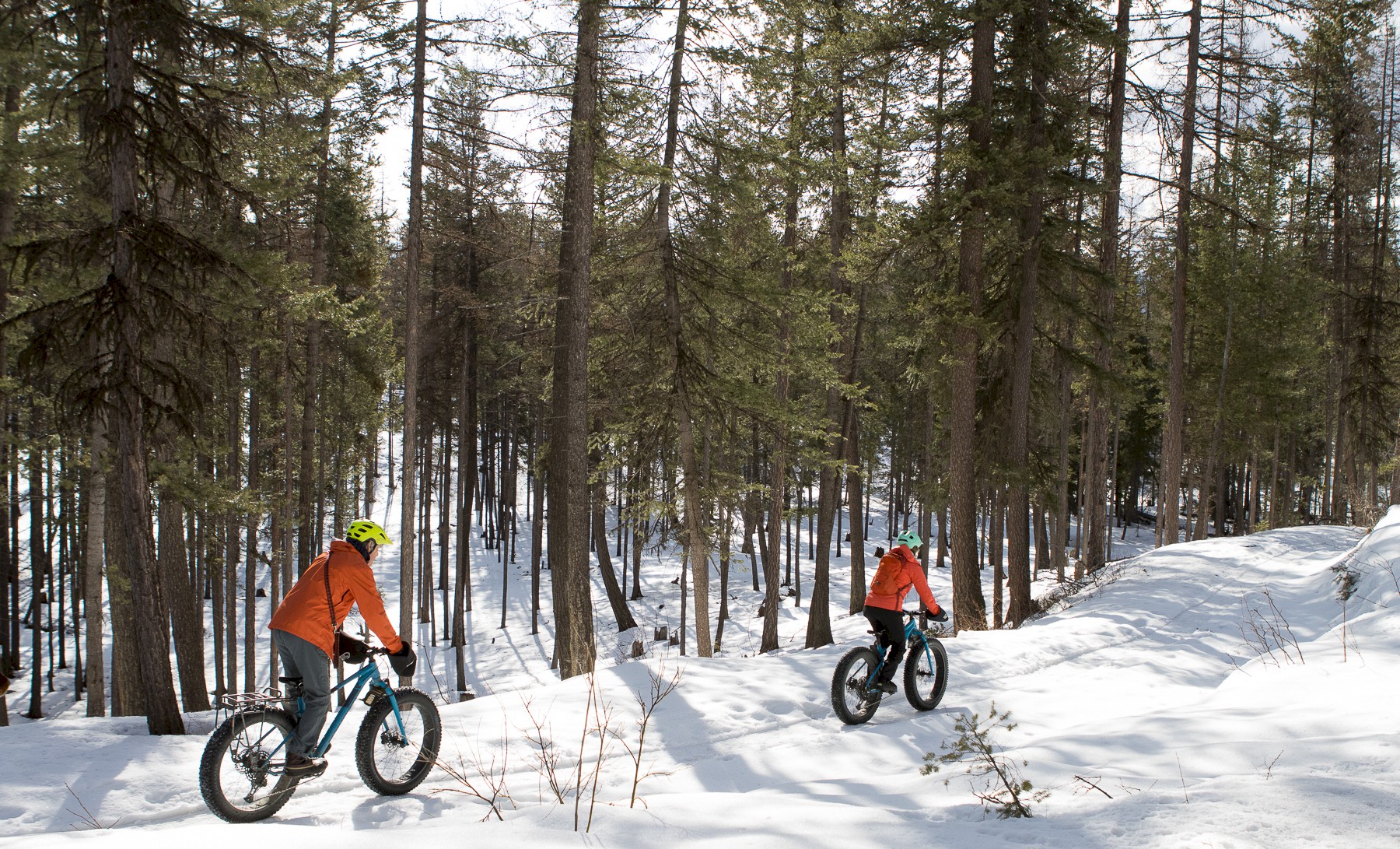 Fish. Bundle up, grab your ice auger, and cast under sunny skies on our frozen waterways. We recommend checking out some of our favourite nearby lakes, such as St. Mary, McGinty, or Hahas Lake. Looking for more dialled-in insight on our prized ice-fishing spots? Book yourself a guided lake ice-fishing tour through Kimberley Fly Fishing, and let the knowledgeable guides there cast you through daily or multi-day trips.
Sled. With two mountain ranges surrounding us, options for further-out adventuring into the backcountry are endless. Snowmobilers find fun along the many access roads dotted throughout the St. Mary Valley, or in the champagne powder of the Canadian Rockies. A little further away in our neighbouring town of Cranbrook, you'll find Lumberton: the nearest groomed snowmobiling area. Trail passes are only $25 to access an extensive groomed trail network for beginners, as well as plenty of access to several large bowls for more advanced riders.

Tip: Please be sure to bring two-way radios for communicating on our nearby Forest Service Roads, as active logging may be ongoing.
Toboggan. Head to the Kimberley Nature Park to spend the morning ripping down some of the best tobogganing hills you've ever seen. Our choice? Hit the slopes between Ponderosa Trail and Patterson Ridge, or branch up into the Trickle Creek Golf Resort to bomb down the snow-covered greens there. We hear Bavarian Home Hardware in Kimberley's Platzl has a good assortment of sliding gear for anyone in need.
Soak. Every good winter adventure deserves a proper warm-up afterwards. If your chosen accommodations don't come locked and loaded with your own personal hot tub, have no fear! In the surrounding valley, you'll find a smattering of both rustic and established hot springs to enjoy. To keep things au-natural, we recommend adventuring out towards Whiteswan Provincial Park to enjoy the popular Lussier Hot Springs. For more developed and family-friendly facilities, enjoy a day trip to Fairmont Hot Springs or Radium Hot Springs: both of these springs can be found less than 1.5 hours from Kimberley.
Looking for more? Check out our itineraries for seasonal suggestions that are curated for all activity levels, ages, and interests. For indoor-specific suggestions to round out the outdoor fun, check out Our Winter Favourites: Indoors Edition blog.