Kimberley Trails: A "Further Out" Guide to Trail-Time
Head a little further out of town to get your fill of downhill thrills, alpine hikes, or road biking wonder. Kimberley's front and back yards in the Purcell and Rocky Mountains are best for longer days on the trails, or multi-activity outings with the whole family. Pack up your off-road-worthy vehicle, and be prepared with plenty of maps, emergency equipment, and adventure fuel. Then, sit back and enjoy the ride.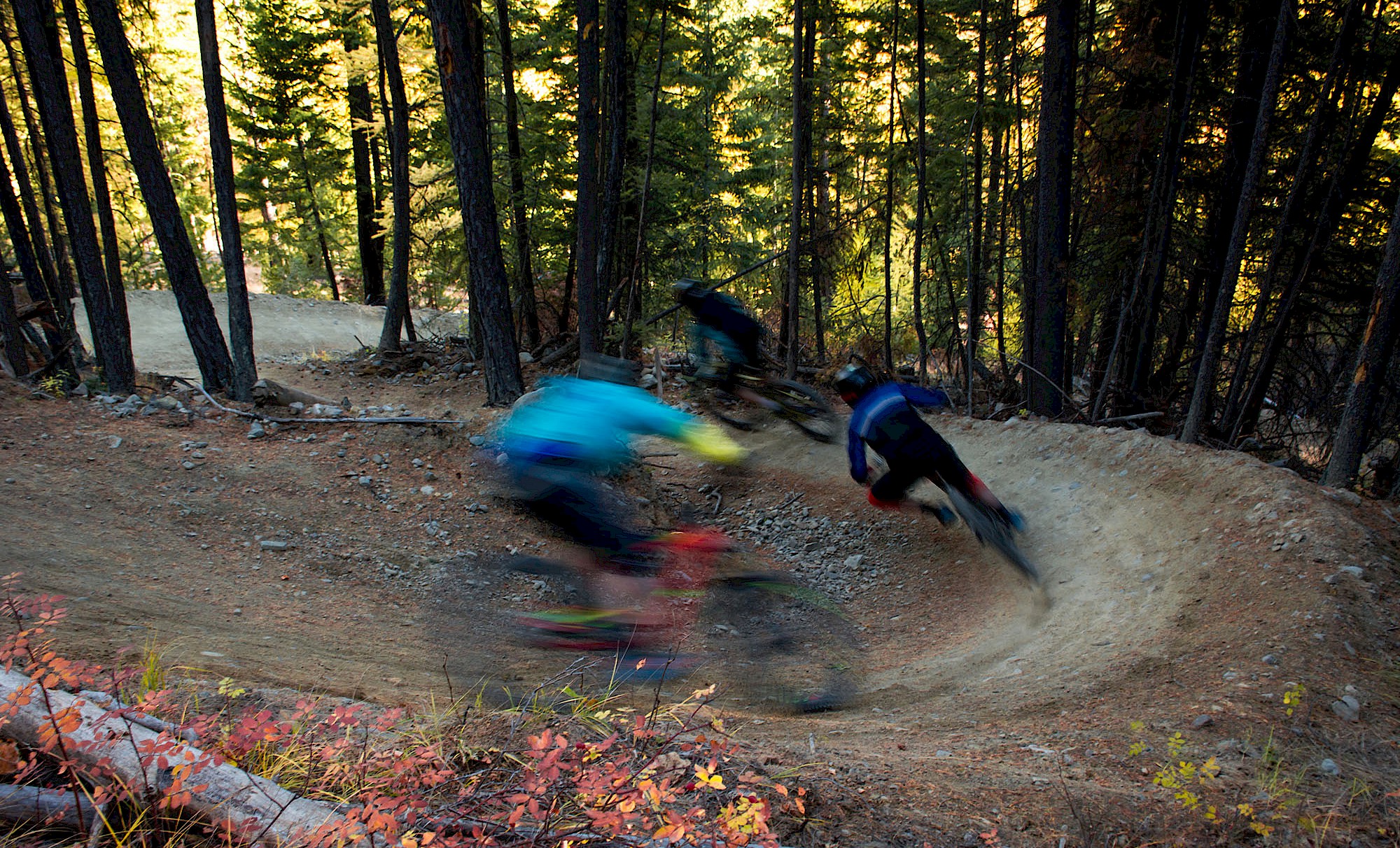 Buck Down Bootleg Mountain
Bootleg Mountain is our newest trail network and is the best place in Kimberley for downhill-specific riding and shuttle laps with friends. This area is best suited for intermediate to expert riders, and the established trails here are reserved exclusively for bike riding during the snow-free months. While biking here, please be mindful that all trails are one-way directional, with the exception of Unicorn Hunting: the zone's designated uptrack route. Popular trails include the cruisy and machine-groomed Purple People Pleaser, and the rooty and steep Atlas Shrugged.
Find a picnic table, outhouse, and fire pit at the main parking area and Trailhead, but bring along your own supply of water. Those planning to skip the uptrack and take advantage of some shuttling should come prepared with high-clearance vehicles and 4WD. This area also has unreliable cell service, so bring along a satellite communication device or radio in case of emergencies.
During the winter months, these trails can be used for snowshoeing or hiking. Adventure enthusiasts can also find sweet turns further up Bootleg Mountain with sled-accessible backcountry skiing terrain.
DIRECTIONS: From the Platzl, head south through the traffic lights and down Wallinger Avenue. After 6 km, turn right onto St. Mary's Lake road, and continue along the road for another 8 km. Take another right turn onto the Bootleg FSR where you'll see a clearly marked Bootleg Mountain Rec. Site sign. The trailhead will be found after driving an additional 1 minute up this gravel FSR.
Shoutout to our Rockstar Volunteers
Our trail networks are a true labour of love for many members of the community. Without the tireless work of these societies and their volunteers, our trails just wouldn't be the same. We are so lucky to have these organizations here in town.
The Kimberley Trails Society (KTS) is a non-profit organization made up of a dedicated group of volunteers who maintain and build the trails in each of our trail networks. Options to donate and get involved include: becoming a member with the purchase of a lifetime membership, getting an annual trail pass, joining a work party, or donating some trail karma here.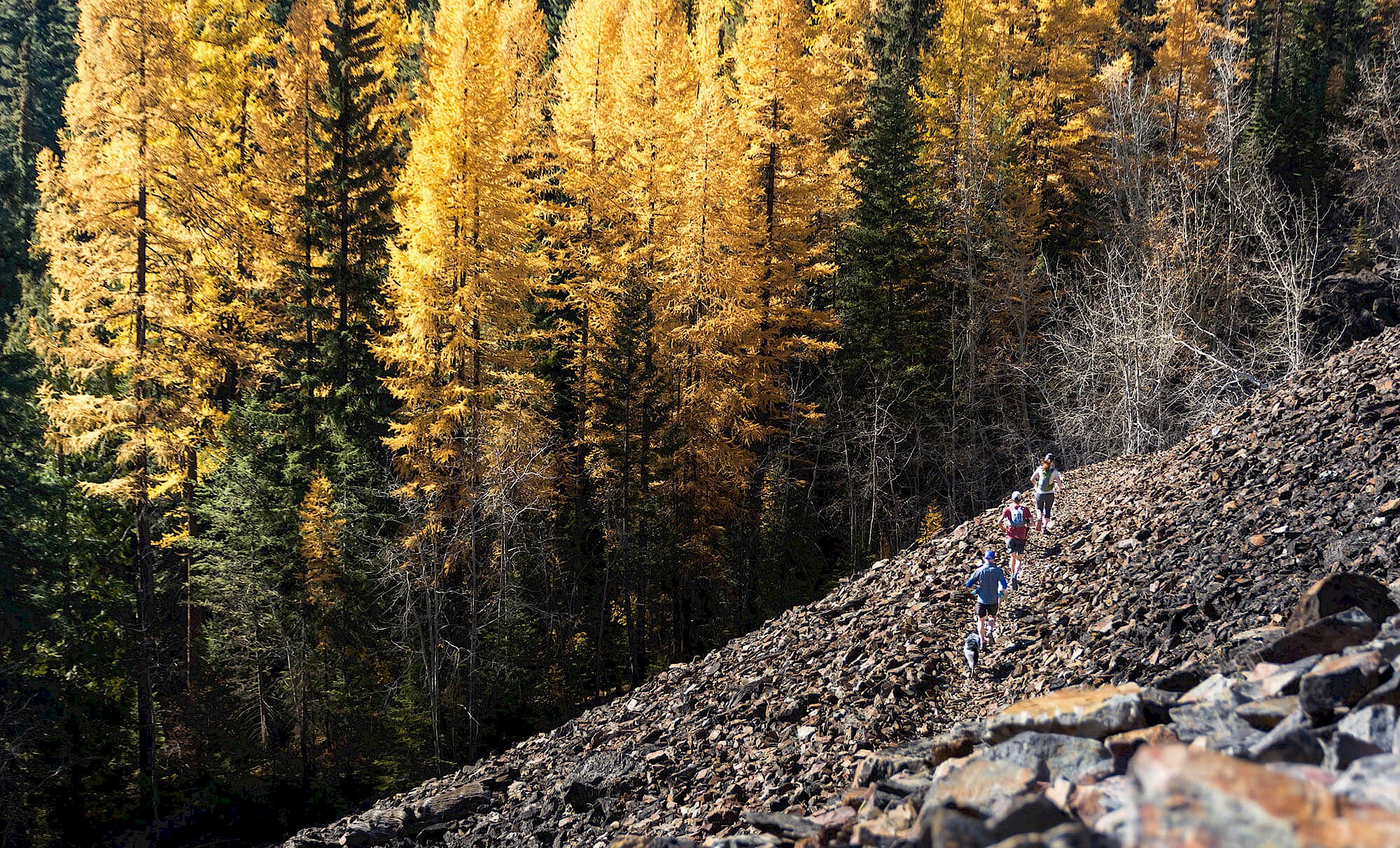 Purcell Mountain Hikes
Head into our picturesque backyard for Purcell Mountain peak-bagging and exploring. This area is home to St. Mary Lake and St. Mary River and boasts a variety of established trails to appease all of your waterfall-chasing, alpine-adventuring, or glacial-lake-swimming desires. It also features the St. Mary's Alpine Park: a rugged backcountry park that covers over 9,000 hectares of remote and unmarked terrain. For a beautiful backcountry hike, we suggest dipping into the sub-alpine waters of Hourglass Lake. To splash in some waterfalls, opt for Mary Anne Falls or Meachen Creek Falls. Longing for some icebergs instead? Stroll down the short and sweet trail to White Boar Lake, and go for a dip in the glacial waters there if you dare.
DIRECTIONS: To get started on your Purcell Mountain adventure, head south through the traffic lights and down Wallinger Avenue. After 6 km, turn right onto St. Mary's Lake road. For specific directions to the aforementioned trails, stop by the Kimberley Visitor Centre, or grab some additional guidebooks like Mountain Footsteps, Kootenay Rockies BC Backroads Mapbook, or Waterfall Hikes in Southern British Columbia.
Rocky Mountain Treks
Opt for an outing in our front yard to enjoy rugged ascents and breathtaking views of the Rocky Mountain Trench. These are the mountains you stare at while gliding down the Kimberley Alpine Resort, and the views that follow you during a cruise along the North Star Rails to Trails. Head to Lakit Lookout for an easy out-and-back, 3.4 km jaunt. Or, head up the Maus Creek Road to try your hand at more challenging hikes like iconic Fisher Peak or the more family-friendly Tanglefoot Lake. Reaching all of these hikes requires preparation, a high-clearance vehicle, 4WD, and a little know-how on backcountry roads. Note: these areas are not accessible for hiking during the snowy months.
DIRECTIONS: Head north through the traffic lights and onto Highway 95A. After approximately 30 km, turn right onto Highway 93S, with signs indicating Wasa Lake Provincial Park. Follow this highway for another 20 km before turning left onto the Wardner Fort Steele Road. For specific driving directions to the aforementioned trails from there, stop by the Kimberley Visitor Centre, or grab some additional guidebooks like Mountain Footsteps or Kootenay Rockies BC Backroads Mapbook.
Lakes and Parks in the Region
All the best trail days end with a good old-fashioned cool-down in a refreshing mountain lake. We're lucky here in Kimberley to have plenty of surrounding Provincial Parks and lakes that provide access to multi-use recreation trails, and act as convenient cool-off spots when the adventure is done. These spots are best enjoyed by the entire family and are easily accessed by any low-clearance, 2WD vehicle.
Wasa Lake Provincial Park is a short 30 km drive away from town and offers an 8km wheelchair-accessible paved path around the lakeshore, as well as a 2.7 km self-guided interpretive trail
Premier Lake Provincial Park features an easy to moderate 6.8 km hiking or running loop and can be reached via a 55 km drive North out of town
St. Mary Lake is our "backyard lake," which can be accessed by a 20 km drive from the Platzl. This lake makes for an ideal cool-off spot after a long day spent biking at Bootleg Mountain or hiking in the Purcell Mountains, or can be utilized as a great starting point for gravel biking options in the St. Mary's Valley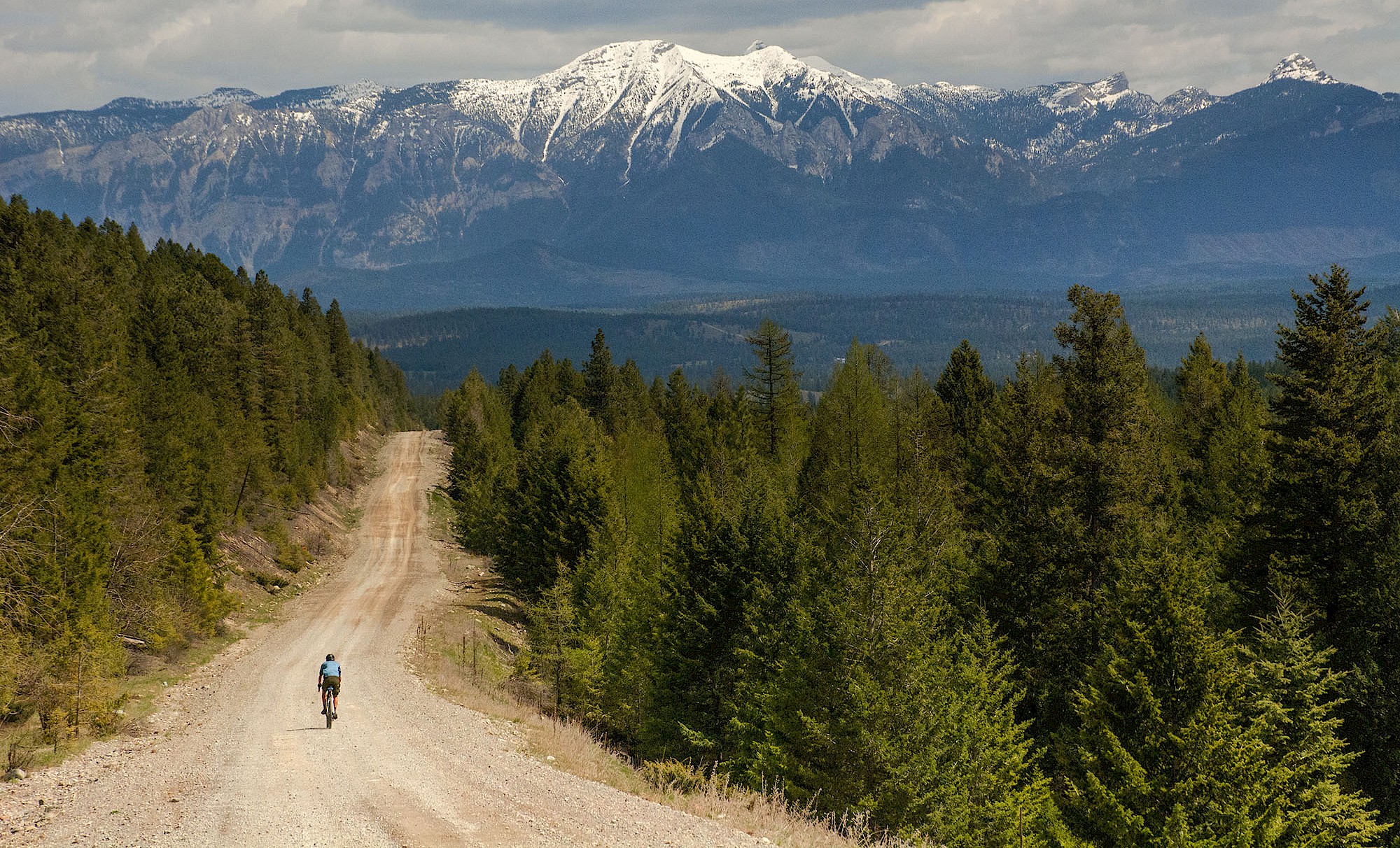 Gravel Grinds and Road Rides
Kimberley is also a great basecamp for road or gravel bike adventures. While many of our favourite road and gravel routes fall outside of our established trail networks, these options offer unparalleled ways to explore the surrounding area and take in some Purcell and Rocky Mountain views.
Grab your gravel rig and enjoy a pedal along St. Mary's Lake Road. Start the ride on pavement to St. Mary Lake during the first 16 km of the route, before hitting gravel and enjoying over 50 more km in the St. Mary Valley. Serious gravel enthusiasts might opt to continue the ride with an epic, 90 km gravel grind over the scenic Grey Creek Pass to Kootenay Lake, or branch off to explore other backroads like the Dewar Creek FSR
For those looking for a pavement pedal, opt for a road ride and start your trip on the Rails to Trails. After travelling the first 26 km to Cranbrook, continue the ride by looping Highway 95/93 past Fort Steele Historic Park and Wasa Lake Provincial Park, before heading back towards Kimberley via Highway 95A
Final Thoughts
Here in Kimberley, we've got no shortage of thrilling descents and alpine vistas in our front and back yards. Our suggestion for any stay here? Choose one Purcell adventure, one Rocky Mountain objective, then be sure to spend a good amount of time checking out all of the great trail networks within town limits. There's plenty of adventures to be had right from your front door, too. Remember that all great outings here start with maps and directions at the Kimberley Visitor Centre, and include a little trail etiquette and safety review. Always come prepared with plenty of gear and wildlife awareness, and most importantly: have fun out there! We can't wait to see what great Kimberley adventures you get up to.
We would like to acknowledge that Kimberley (k̓ukamaʔnam) and our surrounding trail networks are located on the unceded traditional territory of the Ktunaxa (?amak?is) Nation.