Flavours of Kimberley: A Food & Drink Overview of Our Yummiest Neighbourhoods
When you come to Kimberley, be sure to bring an appetite. From multi-course feasts to sweet treats and all the fresh, seasonal produce you can manage, we've got something to please the foodies, picky palettes, and everyone in between.
Our Food and Drink Overview is an a la carte offering of the beverage and culinary hot spots in our town's different neighbourhoods. No matter which season you visit in, or what activities you choose to do while here, each of these food-filled neighbourhoods offer exciting ways to taste the town, stock up on adventure fuel, or celebrate the good times when the day is done.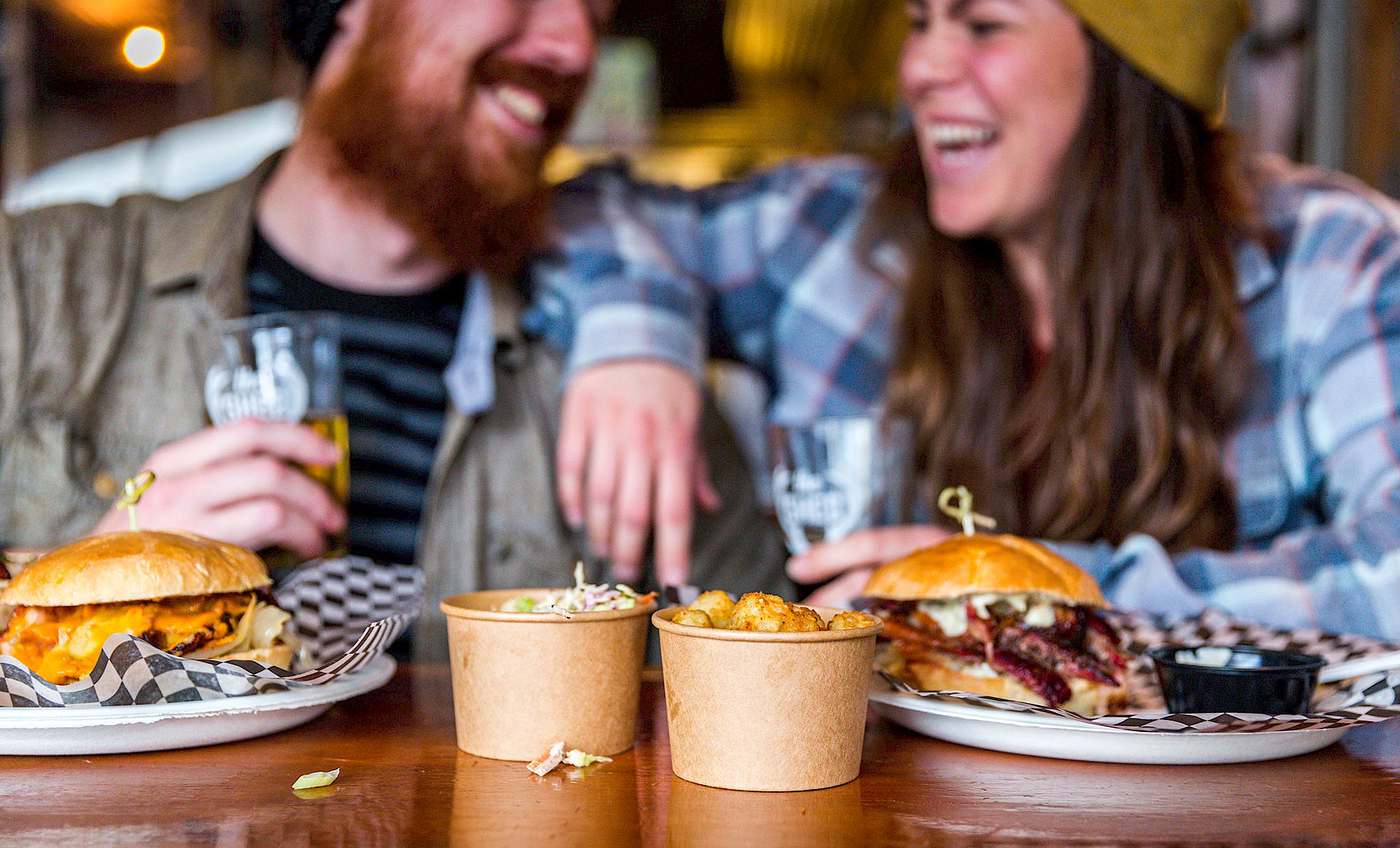 Start with: Breakfast
Where to begin? All proper days here start with a little breakfast and a "damn good" cup of coffee. Each of these breakfast spots is centrally located near our downtown core, which ensures that you can easily hit the trails, attractions and shops as soon as you leave the table.
Our Place. This is our local Platzl breakfast joint. It has been a staple here for years, and a favourite among families due to its kids-specific menu and tons of variety. Expect classic breakfast favourites and hearty portions here.
Sullivan Pub. Just outside of the Platzl on Ross Street, the Sullivan Pub is open for breakfast 7 days a week, and offers standards like loaded omelettes, as well as unique twists on the classics, like their lobster benedict. This one's for the 19+ crowd, and is perfect for anyone looking to add a caesar or a mimosa to the first meal of their day.
Cafes. We've got our fair share of coffee culture here in Kimberley. For those on the move, opt for grab n' go breakfasts or homemade baked goods from Grace Cafe & Preservatory, the Snowdrift Cafe, Kickturn Coffee Roasters, or the Bean Tree Cafe. Bonus: many of our Cafe's offer drip coffee from North Star Roastery or Chaos Coffee, which are our two local Roasthouses in town.
Once you've loaded up on adventure-fuel in the morning, embark on your Kimberley activities and save plenty of room for goodies later on. Those sticking close to our downtown core might opt for lunch and dinner options in our Platzl or Flume neighbourhoods, while those planning to hit the slopes or hike the Mountain might refuel in our Ski Hill neighbourhood. For those looking to ride the Rails to Trails, a cruise to Marysville and some tasty treats there are in order. No matter where your adventures take you, rest assured that a yummy dish or two can be found in every direction.
Neighbourhood #1: The Platzl
Our first featured neighbourhood is the Platzl: our pedestrian-only main street and the true heart of our community. The Platzl is easily accessed by strollers or wheelchair users and features a variety of shops, restaurants, arts, and Kimberley culture. This area is also a short walk or bike away from the North Star Rails to Trails, the Kimberley Nature Park, the Lois Creek Trails, and the Kimberley Alpine Resort. As you cruise around the Platzl, grab tea and lemon squares from the counter in the Old Crow Emporium, enjoy margaritas and enchiladas at the Burrito Grill, or dig into bigger meals meant to satisfy the whole family at: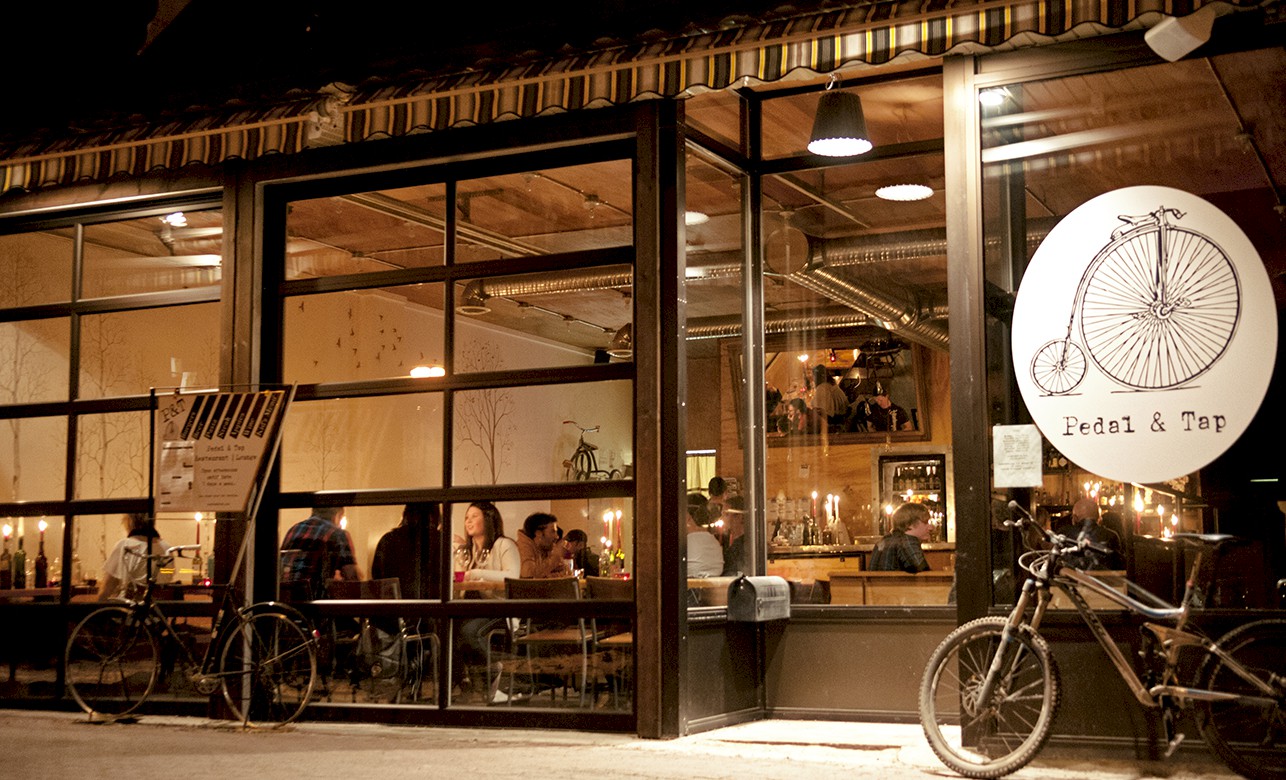 Neighbourhood #2: The Flume
The second featured neighbourhood is the Mark Creek Flume. Two blocks away from our Platzl, this is the natural first stop after any outing on our trails. The Mark Creek Flume flows right through our downtown area, is close to the Kimberley Nature Park and the North Star Rails to Trails, and houses many businesses and residences nearby. From here, you're in close proximity to some uber tasty grab-n-go, light meal, and refreshment options.
Neighbourhood #3: The Ski Hill
This neighbourhood is home to the Kimberley Alpine Resort, the Kimberley Nordic Club, and many of our accommodation options. This is the perfect area of town to grab a bite or a drink after a long day hiking or biking the trails in the summer, or skiing, snowshoeing and fat-biking in the winter.
Neighbourhood #4: Marysville
The last featured neighbourhood is "Marysville," located in South Kimberley. Wander a little further away from our downtown core to find favourite attractions such as the Marysville Falls & Eco Park, charming artisan shops, and some great restaurants, cafes, and snack options. To get to Marysville, bike or walk the first 8km stretch of the paved North Star Rails to Trails, or simply drive a couple of minutes south from the traffic lights in downtown Kimberley.
End with: Dessert in the Platzl
We're big believers in dessert here, and hope you are, too. No matter which neighbourhoods you choose to spend most of your time in, no stay here is complete without letting ice cream drip down your face or decadent mousse cakes fill up your belly. As with our breakfast offerings, all of our favourite dessert spots are centrally located near the Platzl and close to many of our accommodations.