Winter Itinerary: The Carefree Family's Guide to 3 Days of Fun in Kimberley
Day 1: Glide
No fun-loving family's stay in Kimberley is complete without a day spent bounding through Purcell powder and perfect corduroy at the Kimberley Alpine Resort. Head to the slopes and glide into the first day of your winter vacation here.
The Kimberley Alpine Resort is full of family-friendly and approachable runs, plus more challenging terrain for older kids and more daring parents. Learning to ski? No problem! The Mountain offers Snow School Lessons to guide you safely through a day on the slopes.
The Northstar Chair is not currently operational, so book your ride and enjoy an exciting Snow-Cat Shuttle up the mountain!
All proper ski days include a hearty lunch of something deep-fried, and a hot beverage to wash it all down with. Head to the Stemwinder Bar & Grill for poutine or waffle fries, and don't forget to ask for extra whip on that hot chocolate - you have more skiing ahead of you, champ!

Ski passes can be purchased at the Ticket Window or online
After a full day on the hill, stick close to the Mountain and enjoy casual family dining at Buckhorn & Main Mountain Eatery. Save some room after dinner, folks, because your night isn't quite over yet. When the longest lit run in North America is at your fingertips, you go night skiing. Be sure to bundle up, and keep an eye on the many stars shining bright overhead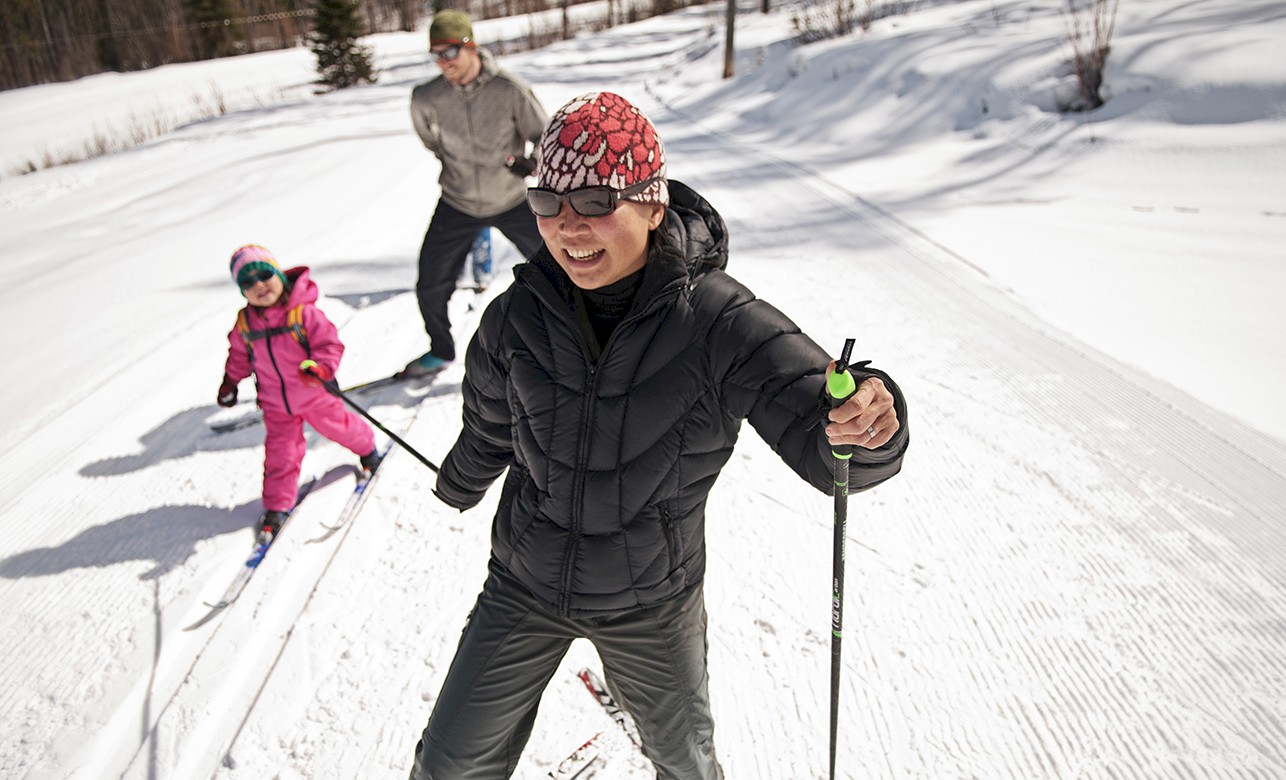 Day 2: Slide
On your second day here, get ready to rip, grip and reach new heights.
Grab a thermos full of hot chocolate and grab n' go goodies from the Beantree Cafe, before picking up a sled from the Dollar Store or Bavarian Home Hardware. Next, head to the Kimberley Nature Park to spend the morning ripping down some of the best tobogganing hills you've ever seen. Our choice? Hit the slopes between Ponderosa Trail and Patterson Ridge, or branch up into the Trickle Creek Golf Resort to bomb down the snow-covered greens

Alternative: sledding not your thing? Try the Trickle Creek "S'mores" Fat Bike Tour offered through the Kimberley Alpine Resort. Each tour includes a few hours of fat biking through Kimberley's winter wonderland, plus some post-bike fire-side relaxing with hot drinks and tasty s'mores
After a morning spent in Kimberley's snowscape, fill your afternoon with hot holds and great heights at Spirit Rock Climbing Centre. Spirit Rock is a great addition to any family's holiday here, and offers After School youth programs, private one-on-one instructing, and Kids Rock Holiday Camps. For parents who want to drop the kids off at a lesson and branch out on their own, head across the street for craft beers and cheer at Overtime Brewery
Tonight, head to a BBQ dinner at The Shed. Picky palettes? You're safe here. The Shed's got a kid's-specific menu with fan-favourites such as the little smokers and tater tots. Plus, we hear the mac n' cheese can win over just about any picky eater. Don't forget to get your fill of late-night sweets from La Lune de Chocolate Candy Shoppe, and browse the creative toys and games at Treehouse Toys before dinner
Day 3: Stride
Wake up with Mickey Mouse pancakes at Our Place Restaurant, then strap on some ice skates and stride your way into your third and final day here.
To stick indoors, head to Kimberley's Civic Centre to skate where the Kimberley Dynamiters play. To head outdoors, bundle up and get ready for a game of pick-up hockey with the local crowd at a neighbourhood ice rink. Find outdoor rinks in the neighbourhoods of Townsite and Marysville, as well as at Swan Park and Garden Park

Note: Skate rentals are available through the Rental Shop at the Kimberley Alpine Resort
Dreaming of frozen lakes and more off-the-beaten-path skating options? Make the short drive out to Wasa Lake Provincial Park for beautiful views of the Canadian Rockies, and smooth ice along the frozen waters. Wasa Lake has a resident-maintained 3km path to skate on, plus a great outdoor rink at the Wasa Lions Grounds. While at the Lions Grounds, warm up next to the outdoor fire pit, and roast marshmallows in between games of shinny
For your last night, get your fill of wood-fired pizza from Stonefire Pizzeria, or enjoy your pies back at home base with delivery from Grubstake Pizza.

Bonus for hockey fans: Kimberley is home to its very own Junior B team, the Kimberley Dynamiters. The best way to wrap up a day skating is to cheer on the home team alongside the rest of the family
While finding winter fun in Kimberley is as easy as pie, 3 days here are just the beginning. Plan for a few extra days to get familiar with your favourite runs at the Kimberley Alpine Resort, or save some time for fat biking and snow-shoeing. P.s. Don't forget to plan for your summer return here. We hear there's plenty of family fun to soak up in the summertime, too.