Freewheelin' Families: A Kimberley Biking Guide for All Ages
Trying to pick that perfect family riding spot? Be it cruisy trails, thrilling downhill, or gravel grinds, Kimberley is a good place to 'spin' family time together. Our mountain town's got enough mellow moments to ease into things slowly, but we've got a wild side, too. With so much trail variety here, we're a prime choice for family riders of all skill levels. Come and see for yourself.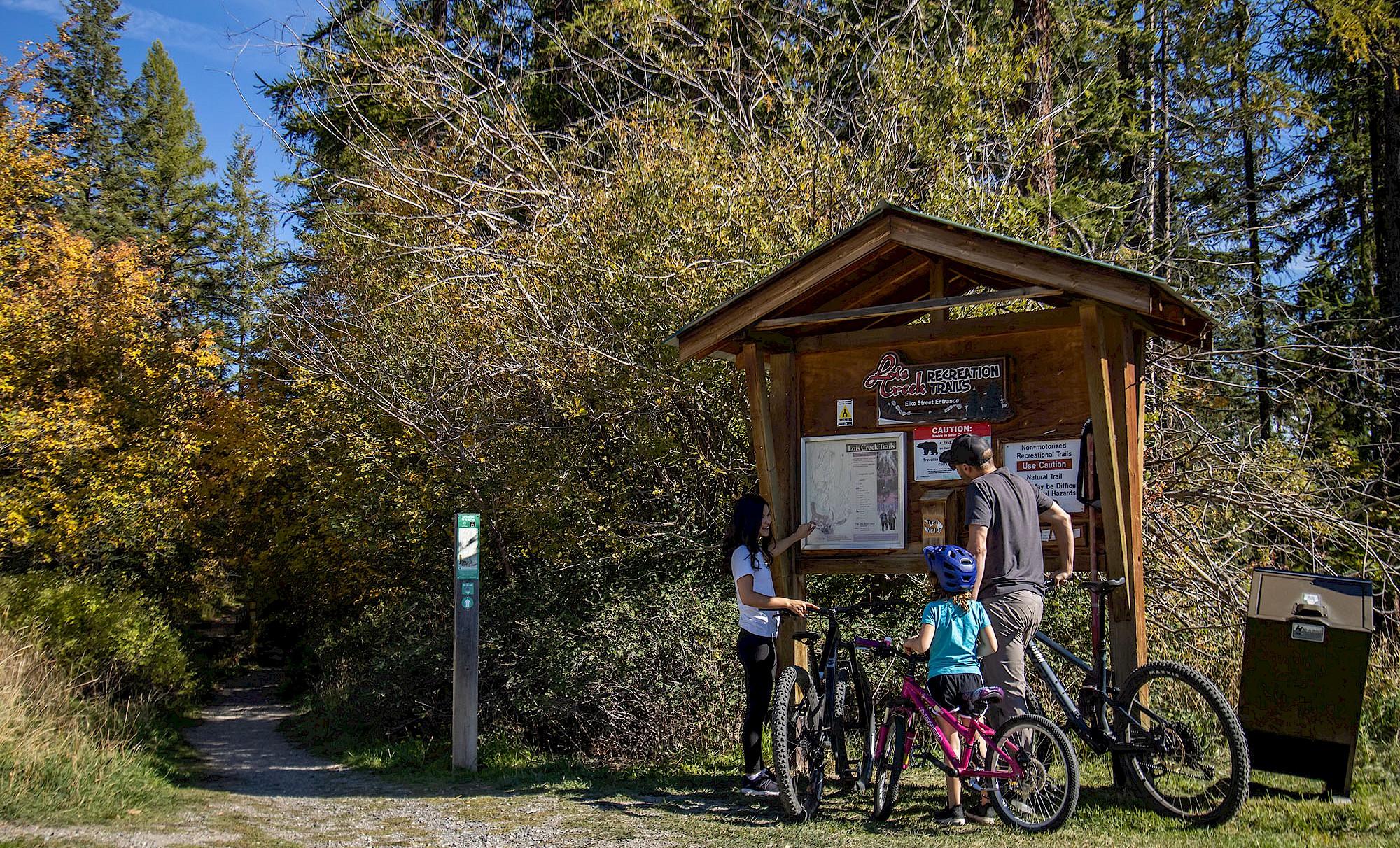 Wee Ones
For the littlest riders, start by cruising the gentle, paved paths around town. The Northstar Rails to Trails is a 26km long route that joins Kimberley with the neighbouring city of Cranbrook. Ambitious families have the option to tackle the whole 26km one-way trip, before hopping aboard the Kimberley-Cranbrook Commuter bus for a lift back to town. Or, split the trail into sections and ride for as long as you like. To get there, head to the Kimberley Civic Centre and cross Rotary Drive to find the Rails to Trails starting point. Finish where you started to cool off at Rotary Park's spray park, and enjoy a packed picnic lunch in the shade while there.
Play Time
Looking to burn off some energy or work on a little mountain bike technique? Hit the Kimberley Mountain Bike Skills Park for some fun berms and features. This local favourite can be found at the corner of Marsden and Rotary Drive and can be easily reached with a quick cruise down the first km of the Rails to Trails.
Double-Track
Wider trails mean more room for the whole crew to cruise through the forest together. For an easy start, head to the Kimberley Nordic Club and take the Centennial to Spruce 3.3 km loop back to the parking lot. Alternatively, try extending the loop by choosing the Iker's Landing branch to hit up Trapline to Five Corners. These trails are also great choices for any adaptive riders in the group. Finally, don't miss the short section to Sunshine Corner to enjoy perfect views, or sneak in a little single-track with the kid-favourite Happy Hans trail.
Trail Network Fast Facts
The Kimberley Nature Park has over 50 km of established trails and 2,000 acres to explore, making it one of the largest municipal parks in Canada
Bootleg Mountain is the town's newest downhill mountain biking network, which the @LoamRanger named one of the best during his Kootenay tour
The Lois Creek Trail network has plenty of mellower options best suited for wee ones or easy cruisers
For striders, gliders, and road-bikers, try the Platzl to Peak that runs from the Platzl to the Kimberley Alpine Resort, or head to the Rails To Trails for paved perfection
Head to the Nordic Centre for local favourites like the Happy Hans trail and Magic Line
Get your gobble on at the Horsebarn Valley with long, flowing cruises on trails like Thunder Turkey
Single-Track
If single-track is your plan of attack, hit the Kimberley Nature Park and park your vehicle at the Higgins Street trailhead. Head uphill on Eimer's Road, then hang a left onto The Bench for a mix of short climbs and some downhill. This is a green-rated loop back to Eimer's Road. Kids will love the short detour to Eimer's Lake loop, too. It's an excellent picnic spot and a great area to explore the marsh in search of frogs.
Thrill-Seeking
Shuttling and descending are alive and well here. The Bootleg Mountain Rec Site biking trails have a variety of challenging tracks for skilled riders to enjoy. These trails are not for the faint of heart though, so make sure you've got some real bike know-how and skills in the saddle before sending any of these rippers. Our faves to get you started here? Warm-up with a short and pumpy lap of NIMBY, or flow down the machine-built Purple People Pleaser.
Refuel Options
Ice cream is the perfect post-bike pitstop. Stop in at Lickity Split or La Lune de Chocolat for the goods.
Everyone loves a good ol' juice break. Pop by for some freshly squeezed organic juices at Stoke Market. Of course, be sure to load up on their farm-fresh produce and other goodies to take on the trail while there.
Biking themed meals are a must here in Kimberley, and the Pedal and Tap is where everyone can get 'mucked up' while surrounded by bike accoutrement. Looking for other spots to please picky eaters and foodies alike? Cold, BC beer and good chow can be found around the corner at The Shed. We hear its expanded back patio calling already.
Forget something?
Don't fret. Visit Purcell Outdoors for any outdoor clothing and gear needs. For mountain biking, Kimberley's got two great bike shops to keep you enjoying your rides. Check out Bootleg Bike Co. and Blackdog Cycle and Ski.
TIP: Don't forget to have a first aid kit, protein-rich snacks, and extra water for the crew on hand during each ride.
About Powder Matt: A self-proclaimed ski bum and story wrangler, Powder Matt is also a strong advocate for getting outdoors and soaking up all of Kimberley's history and hidden gems. Be sure to check out his other Kimberley stories, which touch on everything from fly-fishing and hiking to rafting and town history.