Fall Itinerary: The Relaxed Traveller's 3-Day Guide to Autumn in Kimberley
Day 1: Trot
Fall in Kimberley means embracing a slower pace while enjoying plenty of blue skies, sunshine, and eye-catching displays of reds, yellows, and golds in every direction. For those looking to ease into some autumn exploring here, this one's for you.
Start your first day here with an artisanal coffee and fresh-baked goodies from one of our many Cafe's. Next, head out and hitch a ride on a guided horseback excursion with GOT Adventure. Guided horseback tours are a perfect way to enjoy crisp, fall moments amid a Canadian Rockies backdrop, while also exploring the lightly-trafficked front-country trails surrounding Kimberley. GOT Adventure has been offering trail rides in the area for over 20 years, and offers 1-3 hour rides over a diversity of landscapes
Warm-up with homemade soup and signature grilled paninis at the local-favourite Creme Cheese Shop before setting your sights on an afternoon trot. Additional guided rides can be enjoyed through the fine folks at Windover Ranch. This outfit offers year-round trail rides that run between 1-2 hours on the open fields and treed areas of their property south of Kimberley. No matter which outfit you go with, expect friendly and knowledgeable guides, gentle trail horses, and fantastic views of the Rocky Mountains with every turn
Following a full day of riding, head down to our pedestrian-only Platzl to enjoy some good food, good company, and good cheer. Our suggestion? For your first night in town, opt for Neopolitan-style wood-fired pizzas and other Italian-inspired fares at Stonefire Pizzeria. After dinner, wind down with a pint of something cold, fresh, and local with a beer or growler-fill from Overtime Beer Works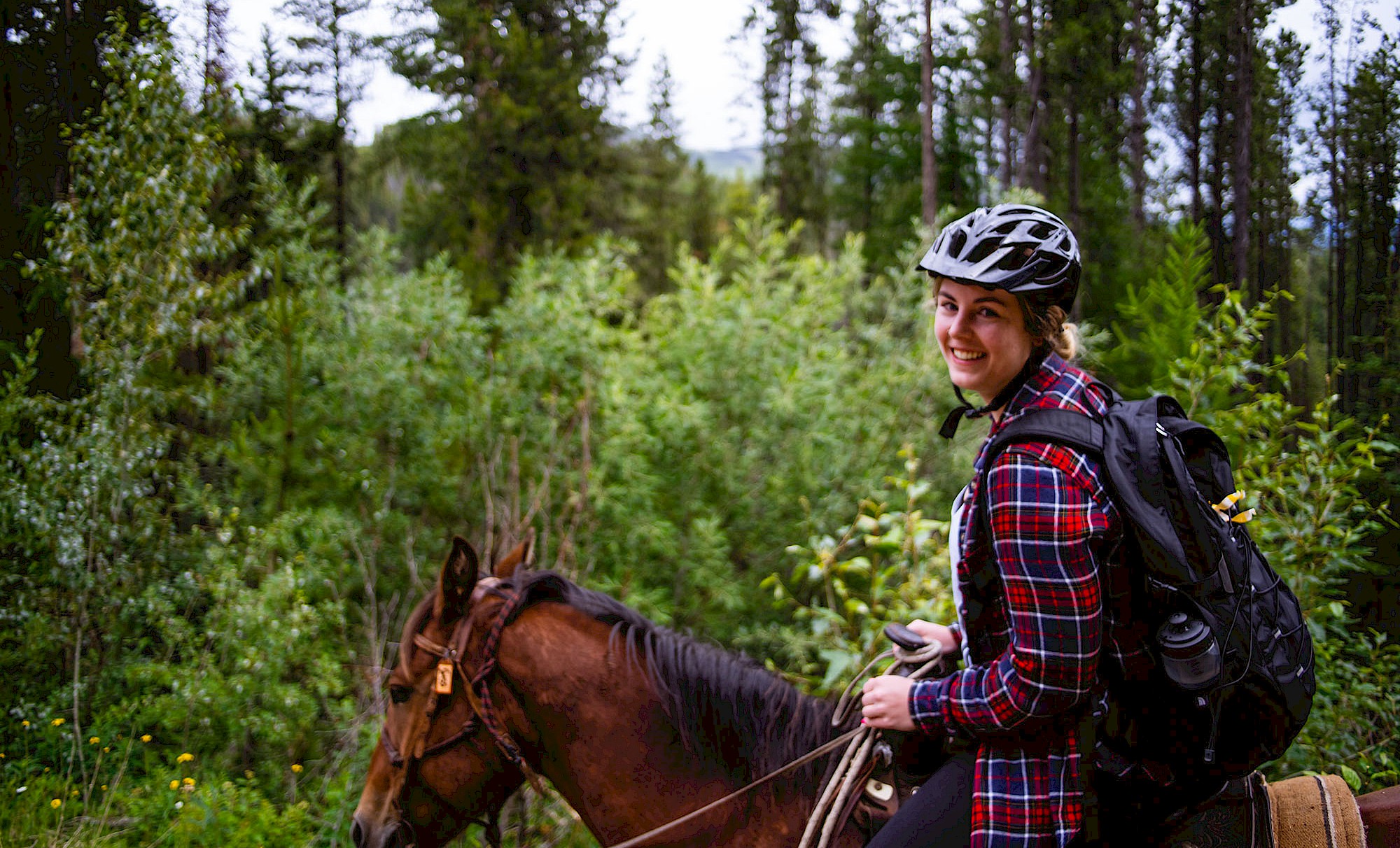 Day 2: Trek
To make the most of our vibrant fall colours, strike out on foot and head for the hills. Cruise through our many forests, lakes, and mountains to take in the fall foliage and do a little wildlife spotting. As Kimberley is home to one of the largest concentrations of Western and Alpine Larch trees in Canada, every autumn stroll here is sure to be brimming with plenty of fall flavour.
Before today's trek, fuel up with a hearty breakfast at the Sullivan Pub. This long-time establishment is for anyone looking for beloved breakfast staples, or twists on the classics. After getting your fill, head to the Kimberley Nature Park to take in a beautiful fall hike. The Kimberley Nature Park is 800 hectares, contains more than 50 km of established trails, and is the largest municipal park in British Columbia. We suggest striking out to the Campground Trailhead and heading towards Dipper Lake. This hike will wind you through the Nature Park and into the adjoining Horsebarn Valley Interpretive Forest to showcase fiery fall colours, along with views of the St. Mary Valley and the Purcell and Rocky Mountains.

Tip: Be sure to keep a set of binoculars handy to take in the 29 species of mammals, 97 species of birds, and nine species of reptiles and amphibians that inhabit the Kimberley Nature Park
For those looking to start their walk right from downtown, head a couple of blocks away from the Platzl and step into the Lois Creek Trail Network. Here, enjoy a meandering 10 km hike around the Tea Spot Loop to take in golden foliage and Rocky Mountain views. No matter which hike you choose, we recommend stopping by Stoke Market to pick up plenty of yummy trail snacks and cold-pressed juices before you set out, and visit Purcell Outdoors or Bavarian Home Hardware for bear spray and other hiking necessities
Tonight, enjoy another Platzl dinner at Biscuit. This is Kimberley's newest restaurant, is a favourite among foodies and more adventurous eaters, and features an uber-local and refined menu. After an intimate dinner, head down the cobblestone walkways of the Platzl to sip on creative cocktails at Hourglass Lounge. While here, expect a relaxed and comfortable atmosphere, and some of the tastiest drinks in town.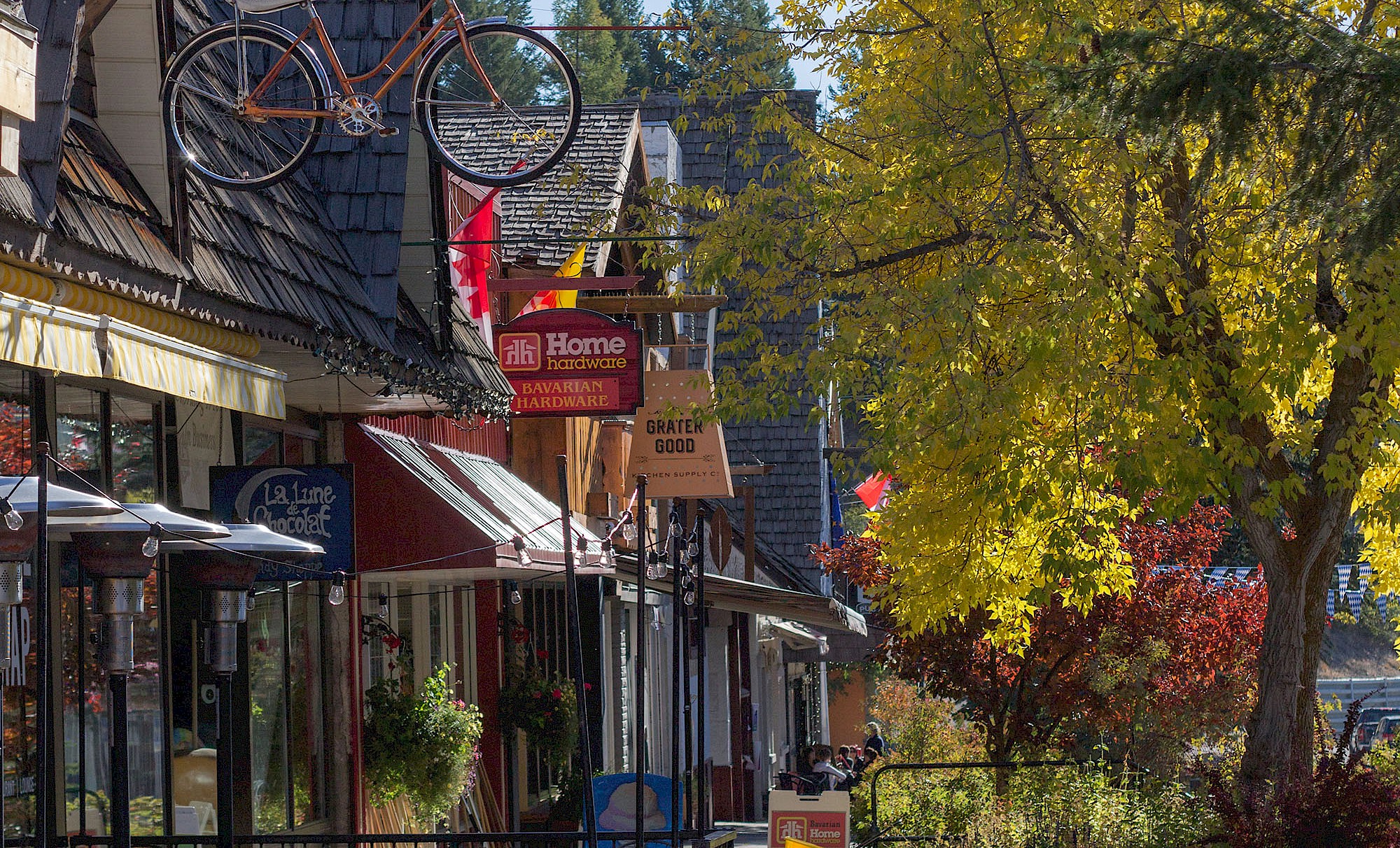 Day 3: Take-In
On your last day here, take in the charm of our town with a day spent wandering the Platzl. This is our pedestrian-only area, which is filled to the brim with shops, restaurants, and art galleries. The Platzl is where many of our seasonal events happen and is the best place to really soak up Kimberley's arts, culture, and unique retail scene.
Today, make your first Platzl stop a delicious one with breakfast at Our Place. This long-standing breakfast hot spot is known for no-nonsense breakfast comfort foods, and coffee that's always hot, fresh, and topped up. For those looking for a lighter first meal of the day, stop by the Bean Tree Cafe or the Snowdrift Cafe instead. Both of these Cafes feature tons of homemade baked goodies, and the freshest espresso around.
For some guidance during your Platzl wander, stop by the Kimberley Visitor Centre to pick up a copy of our Platzl Walking Tour. This tour will guide you through the Platzl, and offer a little insight into some of our signature stops. For those looking to strike out on their own, enjoy a leisurely wander and be sure to stop in at every shop along the way. Not-to-be-missed spots include the Centre 64 Art Gallery, the Kimberley Heritage Museum, Mountain Grass Gallery, and the homemade goodies at Ou Olive Oils and Moody Bee.
After a busy few days cruising Kimberley, wrap up your last night here in style! Our suggestion? Go big before going home with a multi-course Bavarian Feast at The Old Baurenhaus Restaurant. Known for mixing classic, german dishes with fresh, local ingredients, this establishment should be a top choice for any foodies' visit here.
While relaxing in Kimberley is easy, saying goodbye to our fall flavour is decidedly harder. Extend your stay to hot spring soak, cruise our paved paths or nature trails, or take in more of our downtown spirit. For those already itching for their next stay here, set your sights on another season, and discover why there's no bad time of year to make magic moments happen in Kimberley.